Yukana, Hiroshi Shirokuma e Yutaka Aoyama si uniscono al cast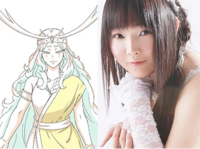 La NHK ha rivelato le sigle e altri doppiatori del cast della seconda stagione dell'anime Radiant. Gli Halo at Yojohan hanno interpretato e arrangiato la sigla iniziale "Naraku". Shōta Watai ha composto e scritto le parole del brano. Emi Nakamura ha composto, scritto e interpretato la sigla finale "Chitto mo Shiranakatta". L'arrangiamento è merito di Hiroshi Kawamura.
I nuovi membri del cast sono:
Yukana nel ruolo di Queen Boudica

Hiroshi Shirokuma nel ruolo di Brangoire

Yutaka Aoyama nel ruolo di Lord Gyuris
I doppiatori già annunciati sono:
Haruki Ishiya nel ruolo di Mordred
Kentarō Kumagai nel ruolo di Sagramore
La seconda stagione di Radiant, composta da 21 episodi come la precedente, farà il suo debutto in Giappone a ottobre.
La prima stagione dell'anime, tratto dal manga francese omonimo di Tony Valente, ha fatto il suo esordio nell'ottobre del 2018 e Crunchyroll la ha trasmessa in contemporanea con la sua messa in onda.
La trama di Radiant è la seguente:
La storia di Radiant segue Seth, una testa calda e forte stregone in fase di addestramento, che cerca di sconfiggere i Nemesis, una razza di mostri che discendono dai cieli per portare distruzione negli insediamenti umani. Dopo un portentoso attacco al suo villaggio natale, Seth si imbarca in una ricerca per trovare la leggendaria terra di "Radiant", luogo d'origine dei Nemesis, e distruggere così i mostri una volta per tutte.
Lo staff della prima stagione torna all'opera in questa nuova avventura. Seiji Kishi (Angel Beats!, Persona 4 The Animation, Yuki Yuna Is a Hero) dirige l'anime per la Lerche mentre Daisei Fukuoka (Danganronpa 3: The End of Hope's Peak High School: Future Arc, stagione 2 di Yuki Yuna is A Hero) é il series director. Makoto Uezu (Humanity Has Declined, Yuki Yuna Is a Hero, Scum's Wish) si occupa della sceneggiatura, Nozomi Kawano è il character designer e Masato Kōda (KonoSuba – God's blessing on this wonderful world!!, Arpeggio of Blue Steel - Ars Nova) compone le musiche.
Fonti: NHK (link 2), MoCa News
Notizia originale di Alex Mateo su AnimeNewsNetwork