Slick Perks for Six Months - with Many More to Come!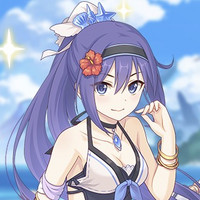 Heyas, Knights! Can you believe it's already been six months since we've started our adventures together? It feels like we've accomplished so much in that small timeframe! From vampire hunts to summer vacation retreats, from exploring the plains to exploring deadly hotlands - we've certainly been through a lot!
To celebrate the special occasion, we've got a plethora of campaigns to ring in the half anniversary cheer. You won't want to miss these exciting opportunities, so let's delve into the deets!
The headliner for our half anniversary festivities has to be, well, the suitably named Half Anniversary Login Campaign! During the 10-day period while the campaign is active, just logging in will net you a free 150 jewels, every single day. That totals up to a potential maximum of 1500 jewels, just for logging in! How crazy is that?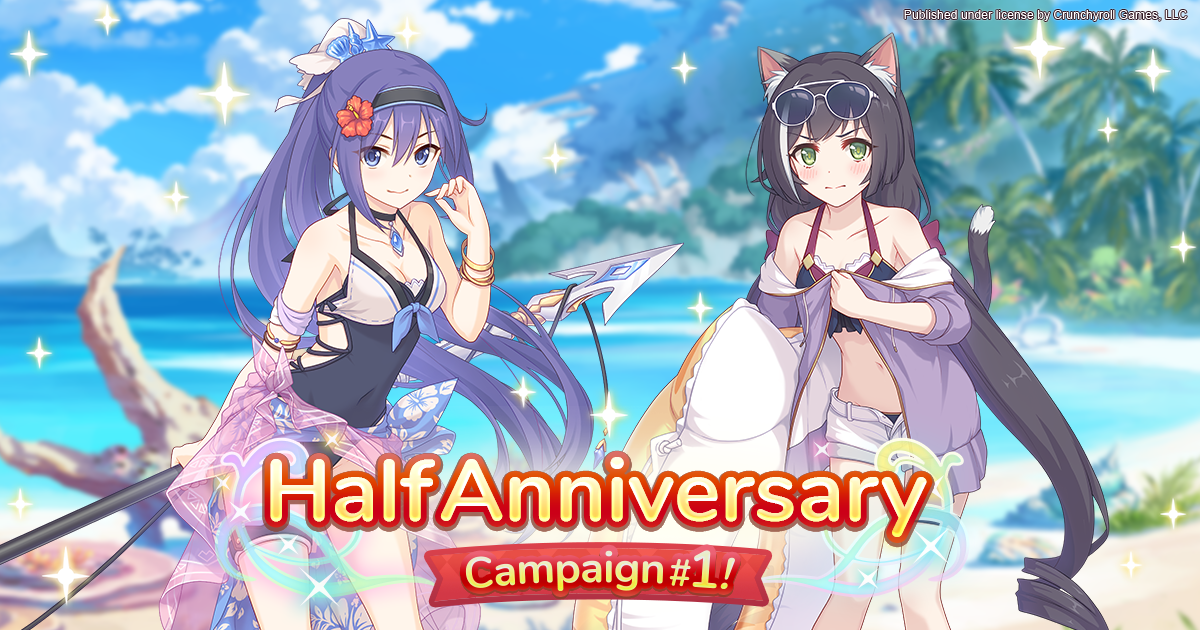 Jewels aren't the only gift you'll be receiving during the festivities - the stamina normally obtained from daily missions is also being doubled in quantity. This means that when you log in between 2:00 UTC and 12:59 UTC and when you log in between 20:00 UTC and 12:59 UTC, you'll earn 200 stamina instead of the normal 100 stamina. Make the most of it!
The Half Anniversary Login Campaign and Double Mission Stamina will run from 7/19 13:00 UTC to 8/4 12:59 UTC.
We've also got some special updates for our regularly scheduled quest campaign programming. For a short time, the normal double drop events are being supercharged into triple drop events! We're kicking it off with the Grotto Quest Triple Drops. During the campaign, enjoy three times the value from every run through the Grotto - three times the mana, three times the experience potions, and three times anything else you find in the vast, resourceful depths that the Grotto has to offer.
The Grotto Quest Triple Drop Campaign will run for seven days, from 7/19 13:00 UTC to 7/25 12:59 UTC.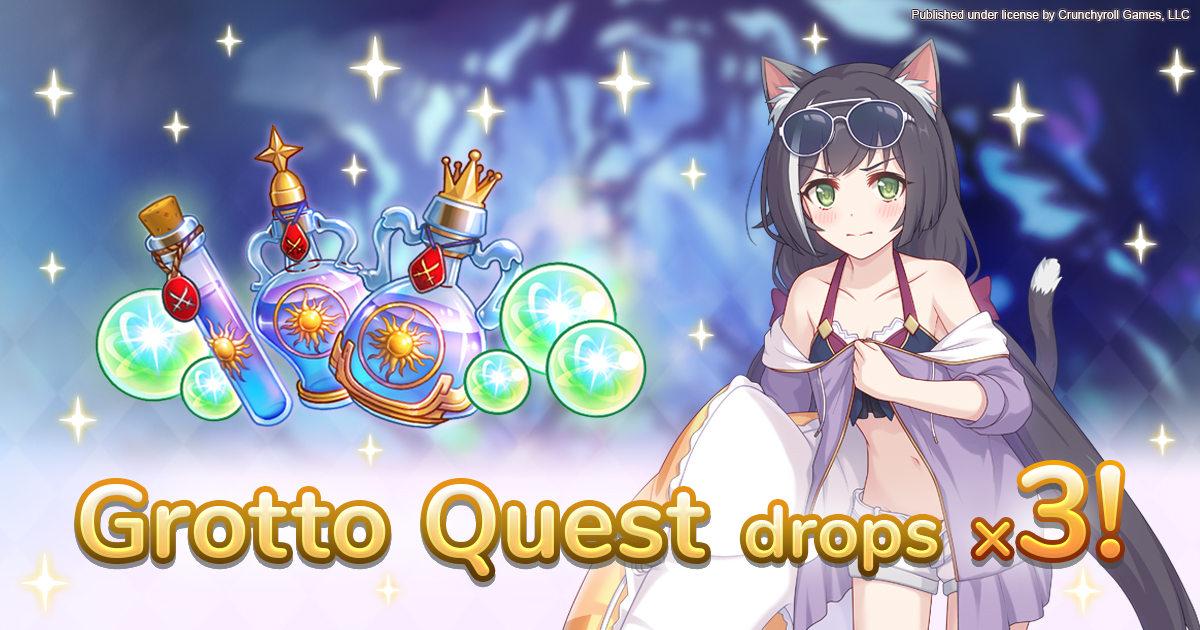 Mana and experience potions are a great bonus, but that alone is not enough for these heroines. Lucky for them (and for you!), they'll be getting the latest and greatest in equipment and accessories to go along with their fashion style. There's no better time to collect equipment for your characters with three times as many drops in the suitably named Normal Quest Triple Drop Campaign, which happens right after the conclusion of Grotto Triple Drops. Mana, EXP potions, equipment shards - you name it, we're dropping three times as much of it.
The Normal Quest Triple Drop Campaign will run for five days, from 7/25 13:00 UTC to 7/29 12:59 UTC.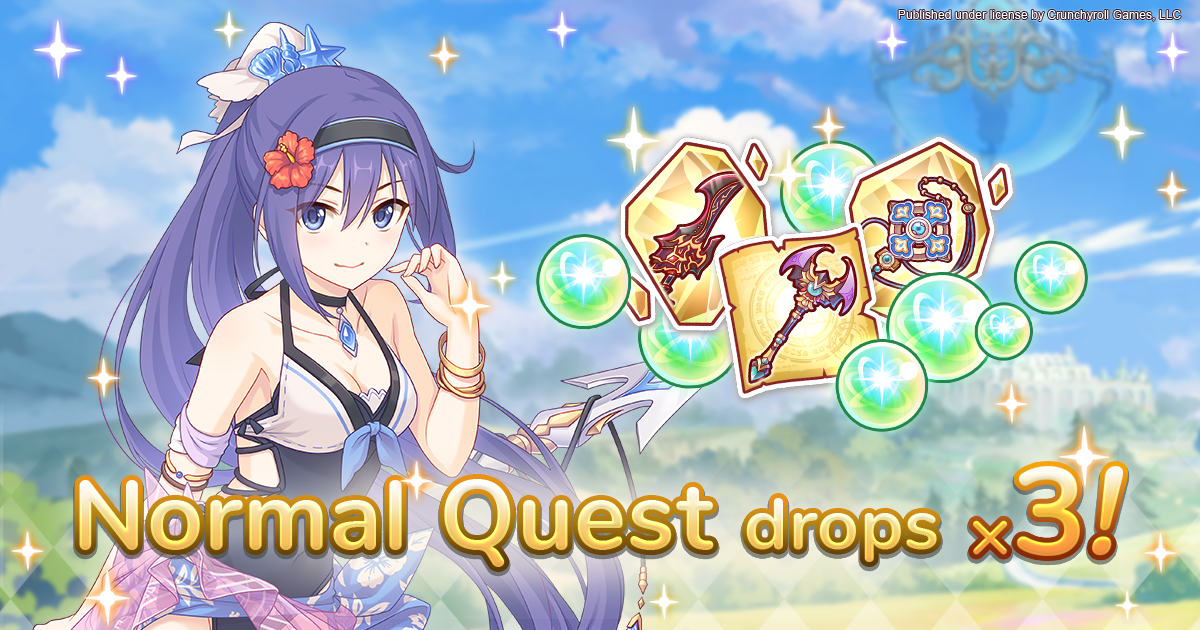 Whether you're a seasoned veteran that's been here from the start, or a fledgling Knight looking to get started on a new adventure, now's the perfect time to enjoy Princess Connect! Re: Dive! Look forward to more special announcements and campaigns celebrating our six-month anniversary, too.
Like always, included below is a summarized version of all the updates announced today, for easy reading and accessibility. Thank you for all your support, and we hope you continue to enjoy Princess Connect! Re: Dive!
See you in Astraea, Knights!
— Crunchyroll Games
*Note: All event details may be subject to change. Please check the in-game notifications at the start of the events for the full details.
Half Anniversary Login Bonus Jewels (7/19 13:00 UTC to 8/4 12:59 UTC)

Receive 150 Jewels per day up to a maximum of 1500 Jewels (10 days) when logging in during the bonus period.

Double Mission Stamina (7/19 13:00 UTC to 8/4 12:59 UTC)

The daily login missions for bonus stamina are doubled from 100 to 200 stamina.

Grotto Triple Drop Campaign (7/19 13:00 UTC to 7/25 12:59 UTC)
Normal Quest Triple Drop Campaign (7/25 13:00 UTC to 7/29 12:59 UTC)