End the month with the Princess Gala, new characters, and a brand new story event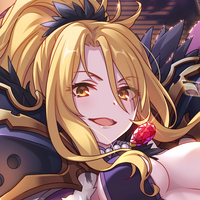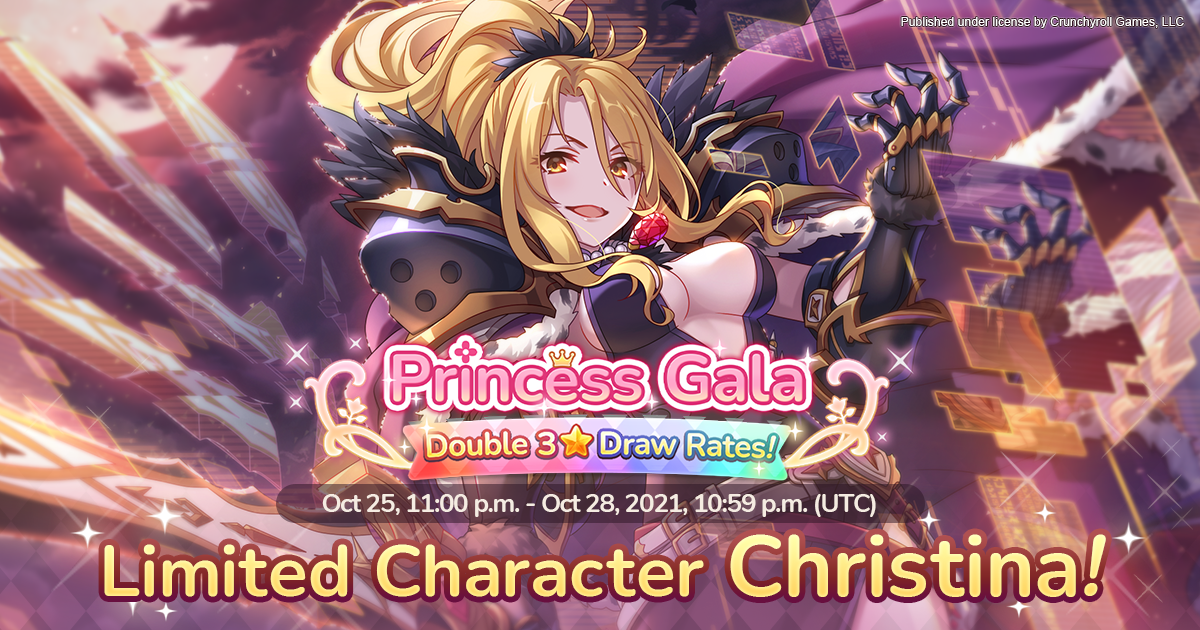 Heyas, Knights! Even though October is winding down and we're approaching the end of our Halloween Festivities, we still have a surprise for you! In our updates today, you'll be treated to twice the number of gacha banners, including quite the special one. With so much to look forward to, you'll be ready to have a ball!
Bow down and make way as the final member of Nightmare, Christina, makes her grandiose appearance! You may be familiar with her from parts of Nightmare's guild story and the Ironclad Nightmare event, but she's finally here and ready to wreak havoc. With her Numbers Avalon Union Burst that always deals a critical hit, and skills to ensure said Burst hits harder and faster, Christina has a use in almost any party.
Here's the catch, though: Christina is a limited Princess Gala character. What's a Princess Gala, you ask? Think of it as a special, super limited-time Focus Gacha and feature a selection of characters that can only be found within the Princess Gala Gacha. This means that Christina won't be added to the regular Premium Gacha rotation after the Princess Gala ends. You'll want to make sure to take full advantage of this opportunity to make her shine before she disappears.
It wouldn't be much of a gala if there weren't other festivities lined up, so we're also doubling the 3★ character draw rates for the Princess Gala Gacha, which means that you're even more likely to find all the characters, new or existing, that you're looking for. If you keep drawing the Princess Gala Gacha, you'll also be able to redeem character exchange points for Christina, too!
The Christina Princess Gala Gacha will only be here for 4 days, from 10/25, 23:00 UTC to 10/28 22:59 UTC.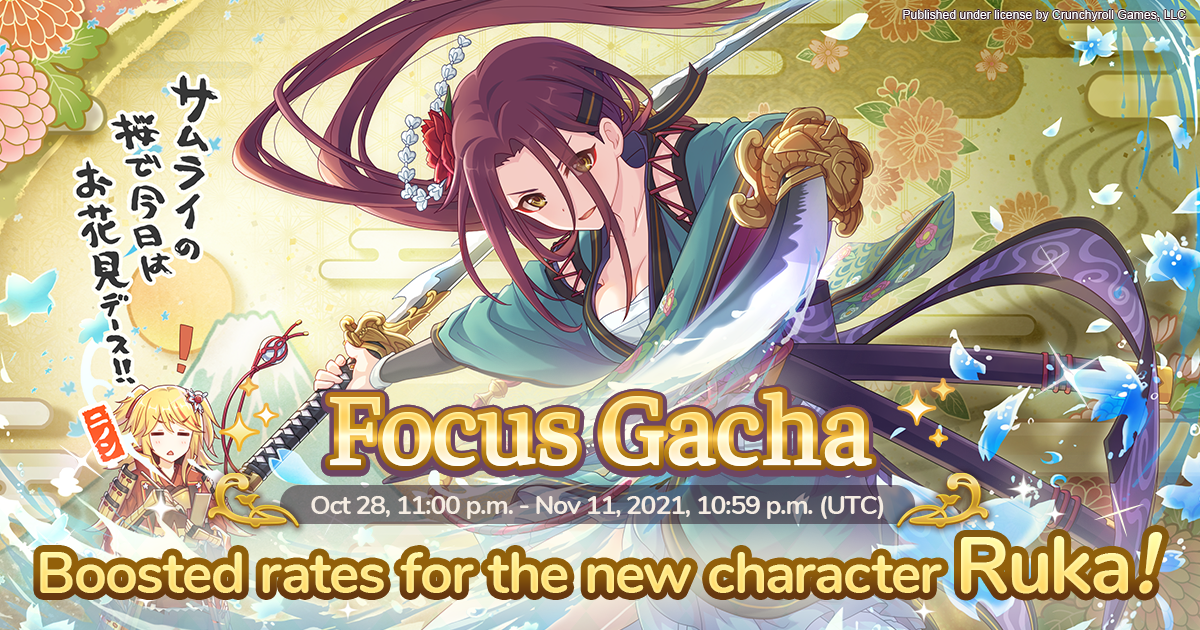 After the Princess Gala ends, we're jumping straight into the fray with another Focus Gacha for another new character, Ruka! The guild master of Twilight Caravan makes her appearance, wielding a katana as she leads her party into battle. With skills to heal herself, provoke the enemy, and her Origin Strike: Severing Moon Union Burst to debuff and slice through her adversaries, Ruka is set to make waves when her Focus Gacha lands.
This will be your best chance to recruit her skills, as Ruka will enjoy boosted rates during her Focus Gacha. Plus, you'll be able to use character exchange points to redeem for her, too (just remember - any character exchange points from the Princess Gala won't carry over and will be converted to skip tickets instead). Ruka will be added to the Premium Gacha after her spotlight ends, but don't miss out on this focused opportunity!
The Ruka Focus Gacha will only be here from 10/28, 23:00 UTC to 11/11 22:59 UTC.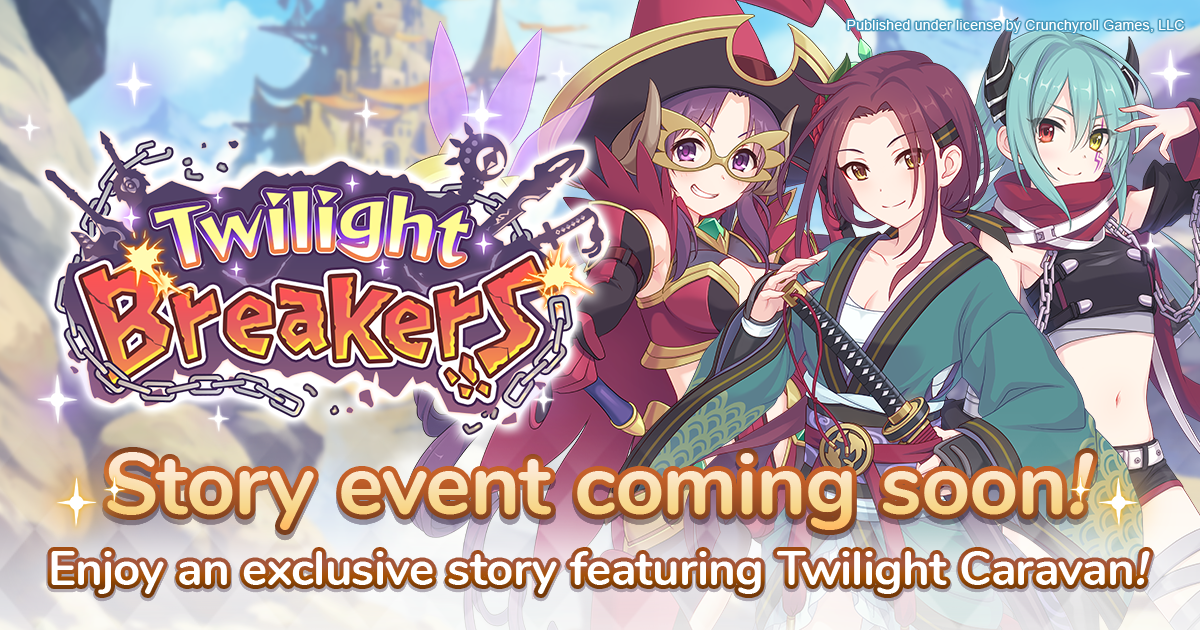 If having Ruka added as a playable character wasn't enough, we're also releasing an event featuring Ruka, Anna, and the rest of Twilight Caravan. Join Anna as she heads out for the perfect job. The guild may all be heading off in separate directions to complete their own tasks but who knows, they might all just be in it together and just don't know it yet. Find out more by completing the Twilight Breakers story event!
As with our previous events, this event also features exclusive boss battles, where you can test your skills in varying difficulties: Normal, Hard, and Very Hard. You'll want to prepare yourself for the Very Hard boss, as it can prove to be quite a challenge, and is only clearable once per day. You'll need Boss Tickets to earn a shot at defeating the boss, which can be obtained by clearing event stages and from login bonuses while the event is active. If you don't successfully defeat a boss on your first attempt, you can retry as many times as necessary, and non-lethal damage dealt to a boss will carry over between attempts.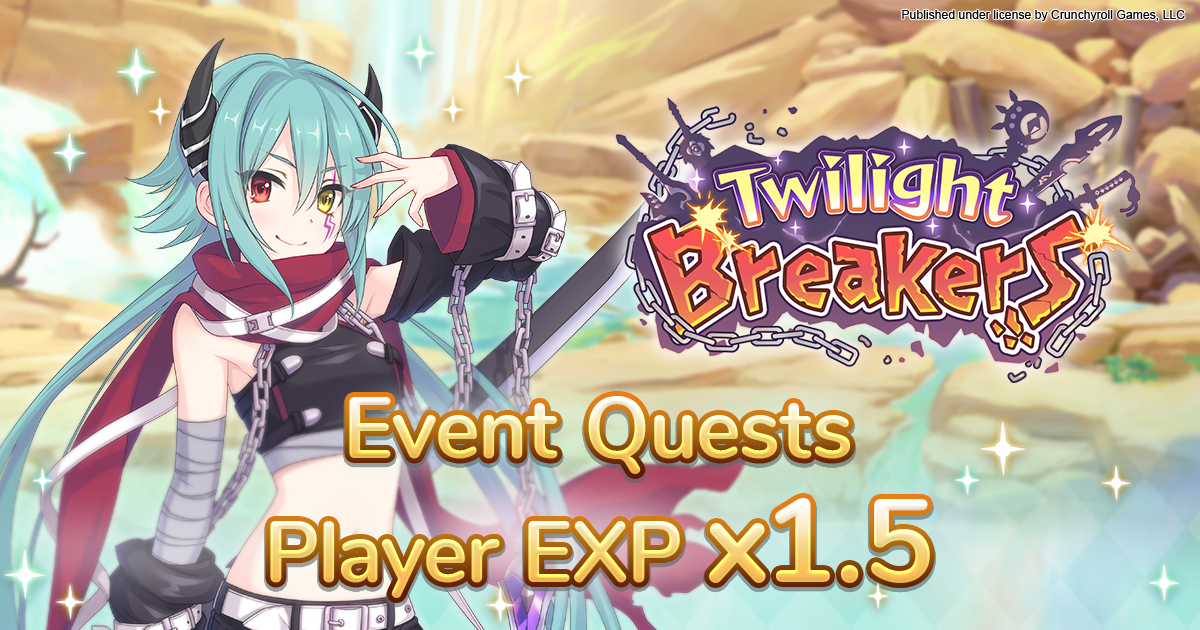 As they say, hard work certainly pays off. Well, you won't have to work too hard to gain experience during the event because clearing Event Quests will also give 1.5x times the normal experience, in addition to the normal Mana, items, and Boss Tickets that these quests give out.
The Victory Medal Gacha also makes its cataclysmic return for the event! Clearing event stages, event missions, and defeating the previously mentioned bosses will earn you Victory Medals, which can be exchanged for a plethora of goodies. There's a predetermined series of reward lineups, each featuring a key reward - once you roll the current lineup's key reward, you'll have the opportunity to either reset the rewards and move ahead to the next lineup, or hold off on resetting to clear out all the possible rewards. Here are the key rewards you should look out for!
Lineup 1: Mitsuki's Memory Shard x 20
Lineup 2: Anna's Memory Shard x 25
Lineup 3: Mitsuki's Memory Shard x 30
Lineup 4: Anna's Memory Shard x 40
Just remember - once you've gone through the four initial lineups, you won't be able to reset the active lineup until you've obtained all the possible rewards from the current active lineup.
The Twilight Breakers Story Event will be available from 10/28, 23:00 UTC to 11/11, 22:59 UTC.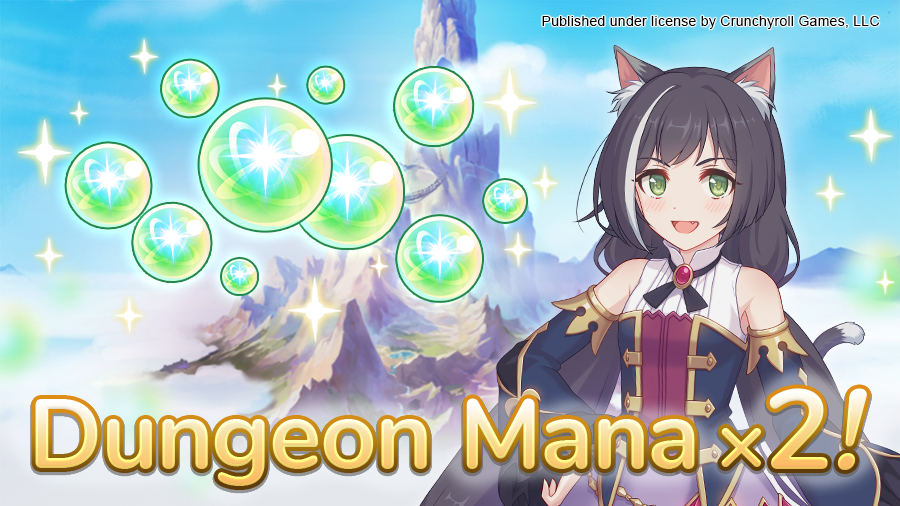 With the introduction of not one, but two new characters in this update, it's time to continue the double-ups. First, we'll be heading into the Dungeon with double the Mana rewards. During the Dungeon Double Drop Campaign, clearing Dungeon floors will give double the usual Mana, meaning there's no better way to double up on resources - you'll need it, considering double the new characters!
The Dungeon Double Drop Campaign runs for 10 days, from 10/26, 13:00 UTC to 11/4, 12:59 UTC.
Next up, we head into "grot-two" territory as the double drops make their way into the grotto. With two new characters added to the fold, you'll need EXP Potions to level up your heroines. During the Grotto Quest Double Drop Campaign, you'll get exactly that with twice the Mana and twice the EXP Potions when completing Grotto Quests.
The Grotto Quest Double Drop Campaign runs for 10 days, from 11/4, 13:00 UTC to 11/13, 12:59 UTC.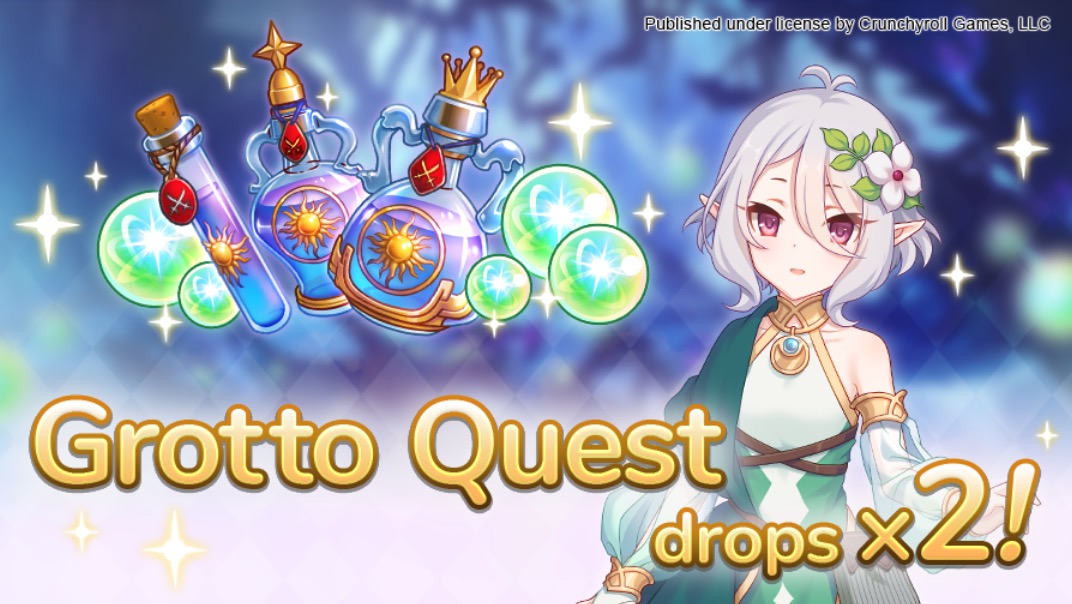 For easy reading and accessibility, included below is a summarized version of all the updates announced today. Thank you for all your support, and we hope you continue to enjoy Princess Connect! Re: Dive!
See you in Astraea, Knights!
— Crunchyroll Games
*Note: All event details may be subject to change. Please check the in-game notifications at the start of the events for the full details.
Christina Princess Gala (10/25 23:00 UTC to 10/28 22:59 UTC)

Boosted rate-up for Christina, also available for redemption via character exchange points
Doubled draw rates for 3★ characters in the Christina Princess Gala.
Christina is a limited unit and will only be available during the Princess Gala Gacha period.

Ruka Focus Gacha (10/28 23:00 UTC to 11/11 22:59 UTC)

Boosted rate-up for Ruka, also available for redemption via character exchange points

Story Event - Twilight Breakers (10/28 23:00 UTC to 11/11 22:59 UTC)

Event missions give 1.5x experience.

Dungeon Double Drop Campaign (10/26 13:00 UTC to 11/4 12:59 UTC)
Grotto Quest Double Drop Campaign (11/4 13:00 UTC to 11/13 12:59 UTC)