"SEVENS" director Nobuhiro Kondo will continue to direct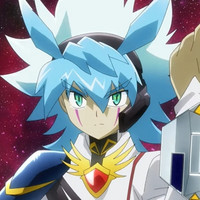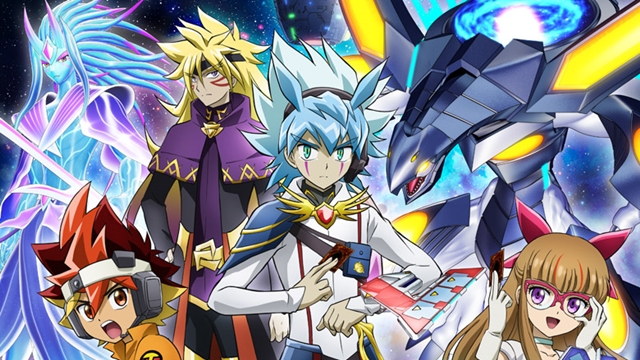 It is officially revealed today that the eighth TV series from the Yu-Gi-Oh! anime franchise, entitled Yu-Gi-Oh! GO RUSH!!, is set to premiere on TV Tokyo and its affiliates in April 2022. This will be the first time in the franchise that the protagonist is an alien. Following the ongoing seventh series Yu-Gi-Oh! SEVENS, which has been aired in Japan since April 2020, the eighth series will be directed by Nobuhiro Kondo and produced by Bridge.
The story takes place in Rokuyo-cho, the birthplace of the Rush Duel. One day, Yuhi Oudou and Yuamu Oudou, two elementary school siblings who run a UTS (Uchuzin Trouble Soudansho / Alien Trouble Consultation Office) to get rid of annoying aliens, discover a spaceship, and when they step into it, they find an alien named Yudias Belgyar (This spelling may not be correct), who comes from the faraway Belgyar Cluster. He has come to Earth in search of the Rush Duel, which is said to lead his friends to a new future after they were forced to leave their home planet, but he has no idea what the Rush Duel is. Yuhi decides to give him a hand, and challenges Yudias to a duel.
Teaser PV:
Teaser visual: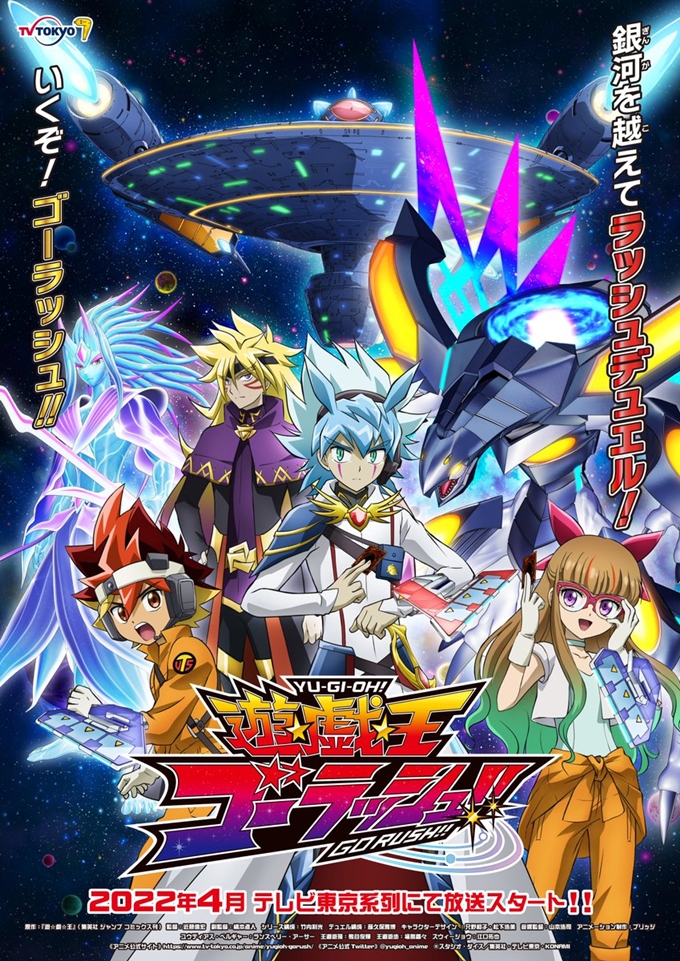 【情報解禁】
主人公は初の宇宙人!?

✨新シリーズ✨
遊☆戯☆王ゴーラッシュ!!
 ̄ ̄ ̄ ̄ ̄ ̄ ̄ ̄ ̄ ̄ ̄ ̄ ̄
2022年4月テレビ東京系列にて放送スタート????
ティザービジュアル公開!!!

▼ティザーPVもチェックしてね!https://t.co/Ypum8qznyq#ゴーラッシュ #yugioh #遊戯王 pic.twitter.com/mP0P6feXrW

— アニメ「遊☆戯☆王」公式 (@yugioh_anime) December 18, 2021
Main Voice Cast:
Yudias Belgyar: Lounsbery Arthur
Yuhi Oudou: Toshiki Kumagai
Yuamu Oudou: Koko Fukushima
Zweejyo: Takuya Eguchi
Main Staff:
Original Story: "Yu-Gi-Oh!" (Shueisha Jump Comics)
Director: Nobuhiro Kondo
Assistant Director: Naoto Hashimoto
Series Composition: Toshimitsu Takeuchi
Duel composition: Masahiro Hikokubo
Character Design: Kazuko Tadano, Hiromi Matsushita
Sound Director: Koji Yamamoto
Animation Production: Bridge
---
Source: "Yu-Gi-Oh! GO RUSH!!" official website / Twitter
©STUDIO DICE/SHUEISHA, TV Tokyo, KONAMI