A-1 prepares for another fantasy hit with fresh leads and an expected director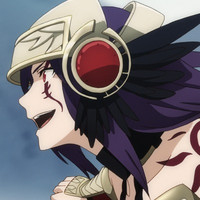 Fantasy has been a mainstay of anime for decades, but Record of Grancrest War has some surprises in store for us. Authored by a man with one of the most impressive bodies of work in genre and produced by the studio which has been steadily delivering quality fantasy titles.
Grancrest War has all the hallmarks of an epic fantasy, taking place on a continent where the forces of order and chaos are at odds. The champions of order are beginning to turn upon one another, providing chaos with the opportunity to return to the land. A wandering knight and a lonely mage must join forces to restore order.
Without further ado, let's take a look at the staff and cast responsible for taking us on this magical journey!
The Staff
Record of Grancrest War is adapted from a light novel by Ryo Mizuno, who became an industry legend in the late '80s for his series Record of Lodoss War, which was adapted into what is now one of the quintessential fantasy anime series of the same name. Notably, Record of Lodoss War was inspired by the tabletop RPGs he ran and now 30 years later he has both anime credits and experience with designing his own games on his resume, which will undoubtedly influence how this new story develops. Despite the similar names, Record of Grancrest War is an entirely new setting. We've already seen quite a bit of worldbuilding and, given the depth of history and breadth of the story of Lodoss, we can expect that to continue.
Grancrest War will be directed by Mamoru Hatakeyama, until recently a mainstay at studio DEEN, who just last winter finished directing the second season of the masterpiece Showa Genroku Rakugo Shinju. Hatakeyama has an interesting directoral resume, including Rozen Maiden Zurückspulen and Sankarea: Undying Love which are notably slower, more dramatic series. Although Hatakeyama has more than proven himself as a master of staging, using environment and framing to create immensely evocative scenes, this grand fantasy setting already pushing into conflict with chaos demons and the prospect of war, will be a definite change of pace.
Series composition will be handled by Ryo Mizuno himself along with industry newcomer Shunsaku Yano, whose has also made a name for himself as a tabletop game designer and game master as well as a fantasy light novel author in his own right. Siluca's manipulation of Theo's crest toward her own political ends already show quite a bit of granularity with how the world has been designed and maintaining a balance between story and exposition is always vital for fantasy series.
Hiroshi Yakou will be making his character design debut adapting the original designs by Miyuu. Hiroshi has a long career as a key animator and animation director with an extensive list of credits from all corners of the industry including Blue Exorcist, Soul Eater, and Taboo Tattoo. This seems like an ideal arrangement since Yakou's biggest consideration will be ensuring Miyuu's already popular manga designs are optimized for whatever visual stunts the story demands.
Music will be by Yuugo Kanno, who has worked on major modern and cyberpunk projects such as Ajin, Psycho-Pass, and Blame! as well as Jojo's Bizarre Adventure. Sound direction will be handled by Yoshikazu Iwanami, another creator with an impressive resume, but notably worked alongside Yuugo Kanno on both Ajin and Psycho-Pass.
A-1 Pictures is fronting the production, which is good news considering their recent retenue of gorgeous fantasy series including Sword Art Online and Granblue Fantasy.
The Cast
The two leads for the project are both relative amateurs in the voice acting scene.Theo will be the first leading role of industry newcomer Kentarou Kumagai, who recently appeared in Iron-Blooded Orphans as Aston and Chain Chronicle as Clauss. Siluca will be played by Akari Kito who has had a similarly short career but an impressive number of primary cast roles, including Kaho in Blend-S and Horikita in Classroom of the Elite.
Other notable actors are Ai Kayano, coming off her performance as Diamond in Land of the Lustrous in the Fall, will be busy this season playing Marrine alongside her role as Akari in March comes in like a lion, and perhaps the occasional cameo as Sister Lily in Black Clover. Yoshitsugu Matsuoka, playing Moreno, is coming off some major roles from the fall, including the lead of Food Wars! The Third Plate's Soma, Shota in [email protected] SideM. He'll also be continuing through the Winter as Nero in Garo -Vanishing Line-.
I can't emphasize enough my excitement with this title, a big name studio and a director responsible for one of the best animes of 2017 coming together with two writers who each have years of experience in fantasy as both authors and game designers. As the first action-focused project for Mamoru Hatakeyama and with two relatively new voice actors as the lead roles, there's also that lightning in a bottle potential for something truly unexpected to happen.
---
Peter Fobian is Features and Reviews Editor for Crunchyroll, author of Monthly Mangaka Spotlight, writer for Anime Academy, and contributor at Anime Feminist. You can follow him on Twitter @PeterFobian.