Cooking with Anime by Emily Bushman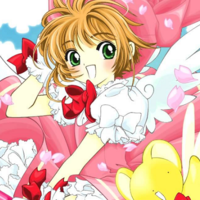 It's no secret that Cardcaptor Sakura is one of my favorite series, so of course when I saw this cheesecake being made by Sakura, Kero, and Tomoyo, I knew I had to give it a try. I mean, they even gave us the recipe in the anime- how could I resist? First step...get someone to translate this for me.
I speak and read a little Japanese, but not enough to read a whole recipe. Luckily for me, I have a few friends who are fluent, so I enlisted some help to get this recipe translated. Conveniently, the anime provided us with a lot of pointers on the process, so that made the translating work easy-peasy. The slight problem? Everything is very much scaled down for a Japanese size kitchen.
I don't know how familiar you are with Japanese recipes, especially Japanese baking recipes, but compared to American recipes, things in Japan are a LOT smaller. I mean, just walk into your local Daiso (if you're lucky to have one). If you wander down the baking aisle, the first thing you'll notice is the miniature size of all the pans. The largest pan I've ever seen there is a 7 inch round. To be clear, the standard baking size in America is a 9 inch round. The 2-inch difference! May not seem like a lot, but trust me- it is. The smallest pan I own is an 8 inch round and I wasn't about to buy anything smaller (you should see my kitchen already- I have way too many pans). As a result, I had to scale this recipe up so that it would fit into my 8-inch springform.
Another challenge I ran into was with the gelatin. Gelatins can sometimes vary depending on the country, and the weight specified for the gelatin in the recipe seemed way too much- 10 grams of gelatin for the original recipe, and I'd decided to double everything. I know if you add too much gelatin in, it can leave a bad flavor in the final product, so I defaulted to an American measurement of gelatin in a cheesecake recipe I've used before. The final product turned out just fine, so I don't think it made much of a difference.
Beyond that everything is the same- same ingredients, same process, and, ideally, the same flavor. The honey in this recipe is an unusual ingredient- most American cheesecakes are flavored with plain old sugar. I'm not normally a fan of honey, but its subtlety as a sweetener adds some major flavor and works so well with the cheese. And then with the raspberry sauce...? I mean, it just works so well to lighten the honey and cheese flavors. And boy, what a flavor. I usually share my recipes with friends and co-workers because I live by myself but this...this I kept all to myself. It was irresistible. I was eating cheesecake for a week, and I regret NOTHING.
I really hope you can try this out! Watch the video below to get more pointers on how exactly to make this dish!
---
---
Ingredients for Chiharu's Rare Cheesecake with Raspberry Sauce
3/4 cup butter, melted

100 grams Graham crackers (roughly 1 cup)

2 cups Whipping Cream

80 grams Sugar (roughly 2/3 cup)

160 grams Honey (roughly 1/4 cup)

Juice of 1 Lemon

2 blocks, 400 grams Cream Cheese, softened

1 3/4 tsp Powdered Gelatin

1/4 cup Lukewarm Water

6 oz Raspberries

1/4 cup Water

1/4 cup Sugar

Mint
---
To Make Chiharu's Rare Cheesecake with Raspberry Sauce
1. Smash graham crackers until you get crumbs. Melt butter. Combine.
2. Line an 8-inch springform pan with baking paper along the bottom. Press crust down in an even layer on the bottom of the pan. Set in the freezer to chill.
3. Whip the cream slightly using a hand mixer. Add in the sugar, honey, and lemon juice. Whip until soft peaks form.
4. Whip in the softened cream cheese.
5. Allow gelatin to bloom by sprinkling it over the 1/4 cup water. Wait about 5 minutes, or until gelatin has absorbed the water. Microwave about ten seconds, and stir to smooth out any lumps. When it is room temperature, add to the mix and stir through.
6. Sieve the cheese mixture. Spread it into the springform pan, so that the crust is completely covered and the top is smooth. Set in the fridge for about three hours, or overnight.
7. To make the raspberry sauce, add the water, sugar, and raspberries to a saucepan over high heat. Allow to come to a boil, stirring every few minutes, for about 10 minutes. Remove from the heat and strain out the seeds. Chill the raspberry sauce until ready to use.
8. Finally, garnish cake with mint leaves. Serve each slice with a generous portion of the raspberry sauce. Enjoy!
---
In case you missed it, check out our last dish: Soma's Venison from "Food Wars!". What other famous anime dishes would you like to see Emily make on COOKING WITH ANIME?