In this house, we stan Bubu and Bubulina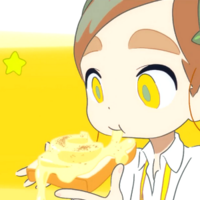 It's been 5 years since Japan Animator Expo, a festival of animated shorts produced by Hideaki Anno's pet studio Khara. Many of these shorts came and went like the wind, while others (like Endless Night and Denkou Choujin Gridman) were expanded into fuller versions that took the industry by storm. But what about the other ones, the fantastic stand-alones that currently languish in Khara's vault? Japan Animator Expo's shorts are inaccessible at the moment, but if they ever see the light of day again I'd recommend any of the entries below. They're all shorter than your typical episode of anime, but each of them packs more punch in that span than your average twelve or thirteen episode season.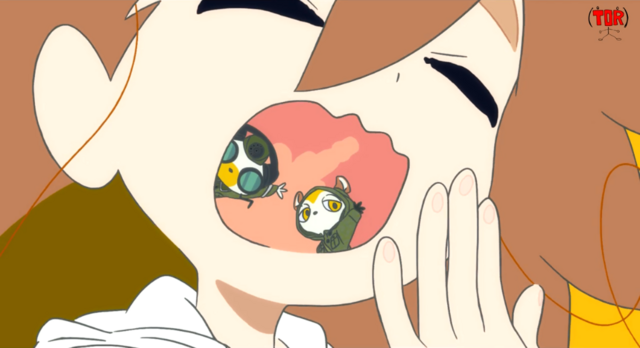 Two of my favorite anime series are FLCL and Gunbuster 2, and both were directed by Hideaki Anno's protégé Kazuya Tsurumaki. Since working on those two series, though, he's been hard at work in the bunker at Studio Khara crafting the Rebuild of Evangelion films. I'm certainly excited to see what comes of the last film in that series, but I can't deny that part of me wishes Tsurumaki was given a chance at making something completely disconnected from Gainax's past. Lo and behold, Japan Animator Expo gave him not just one, but two chances to do this! I enjoyed The Dragon Dentist, which he worked on with Otaro Maijo. But it's the second short he directed for this project that I think best stands up as a unique experience: I can Friday by day! (second season), a very odd military science fiction drama rendered in candy and pastels. Tsurumaki was assisted on this project by Hajime Ueda (famous for the FLCL manga and ending animation for Monogatari) and Sushio (friend of Trigger). You can see their handiwork in the cute characters and expressive animation. I can Friday by day! is unabashed pop art, constructing its world with building blocks of spun sugar hiding something just a little wrong and off. I found this to be a more flavorful follow-up to FLCL than its official sequels.
Content warnings: body horror involving (cute) automated school girls and boys.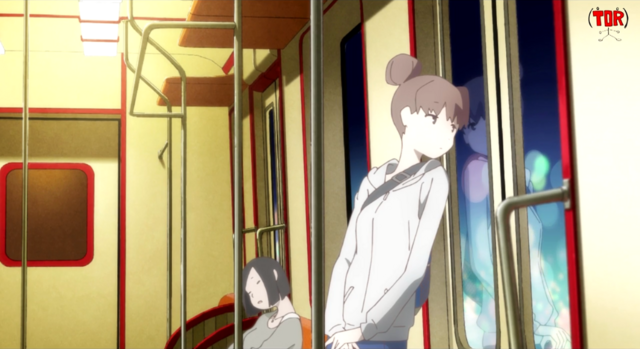 I've loved everything that Akemi Hayashi has ever worked on. From her touching episode of Space Dandy to the emotionally devastating twentieth episode of Penguindrum, she's never done wrong in my eyes. One day they'll give her a movie to direct and slay us all with, but until then we'll have her fantastic short for Japan Animator Expo: Tomorrow From There (first season). A music video telling the story of a young woman struggling with her move to the big city, it perfectly captures the feeling of living in your mid-twenties and fearing that you've gotten everything wrong—and the excitement that comes when you see the new opportunities and experiences in front of you. The song is great, the environments all have a ton of character, just watching this thing gives me Pavlovian tears. If I'd recommend any single video from the Expo for most audiences, it'd be this one.
Content warnings: Deep millennial anxiety, but otherwise appropriate for all audiences.
Although Tomorrow from There is my sentimental favorite of Japan Animator Expo's first season, its greatest technical achievement is probably 20min Walk From Nishi-Ogikubo Station. A young woman wakes in her apartment, only to discover she's become very, very small. Meanwhile her boyfriend is terrorized by a hideous insect! If you're familiar with Kafka's Metamorphosis, you probably know where this is going. 20min Walk is one of the longer shorts in this project, but it's easily one of the most impressive, pulling off shot after complicated shot. There are elaborate multi-planar set-pieces, there's a segment at the end by master animator Shinya Ohira. And while it's hilarious to watch, there's a fair share of horror, pain and anguish in there too, the nightmare of miscommunication between two lovers. 20min Walk makes full use of the medium of animation, and is recommended to anyone looking to see that format stretched to its very limits. The only tricky thing about it is that the heroine is naked the whole way through, which makes it difficult to take screenshots of (I did my best!).
Content warnings: Lots of nudity, there is a cockroach.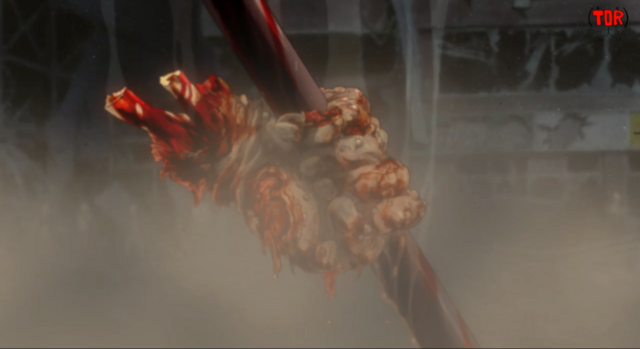 Mahiro Maeda has had a fascinating career: he's best known for his fantastic and visually ornate Dumas adaptation Gankutsuou, but he's also contributed to projects like Shin Godzilla and Mad Max: Fury Road. Unfortunately, just like Kazuya Tsurumaki, Maeda's been holed up at Khara for the past several years busy working on the Rebuild of Evangelion movies. Japan Animator Expo saw him really let his freak flag fly, resulting in the fantastic Kanon (an adaptation of a novel by Karl Capek, as Maeda does). But even better was his contribution to the Expo's third season, Hammerhead, scripted by Dragon Dentist creator Otaro Maijo. Hammerhead is just under ten minutes of extreme violence, and certainly isn't suitable for all audiences. But it overflows with some of the most outrageous and creative superhero fights I've seen, as well as some thoughtful if nihilistic mediations on why superheroes make the sacrifices that they do, and why the culture responds to them. We live in a world flooded with superhero media, movie and television screens filled to bursting with them. Hammerhead puts nearly all of it to shame, and is essential viewing for anyone able to deal with its violence. I'd love to see a feature-length version, but until then we have Otaro Maijo scripting an entirely different series next year to tide us over! Here's hoping it measures up to this phenomenal effort.
Content warnings: extreme graphic violence and mutilation. For mature audiences!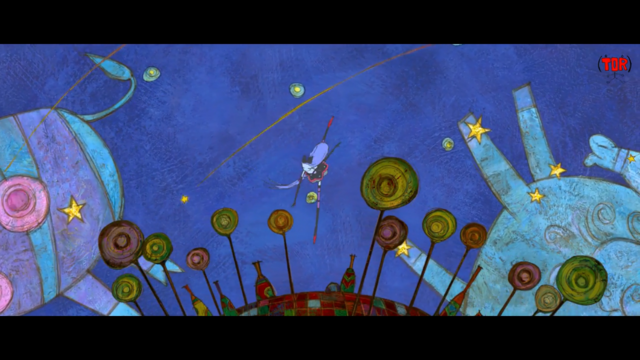 Takashi Nakamura directed and wrote the very good series Fantastic Children, which looked like a World Masterpiece Theater series but was at its heart an epic science fiction tragedy. Studio Colorido produced a fan-favorite McDonalds commercial some years ago, and more recently adapted Tomihiko Morimi's Penguin Highway into a film. Together they made Bubu and Bubulina, which is nothing like Fantastic Children or Penguin Highway. Instead, it's a throwback to classic cartoons, with rough line-art, a jazzy soundtrack and a girl with the power to make giant freaky-looking balloons. It's also an unexpectedly melancholy story about a spirit coming to terms with its inability in life to find an audience. Bubu and Bubulina walk on and off the stage of Japan Animator Expo as if they've come from a long and varied tradition of shorts in which they are prominent stars. We may never see them again, but I'll always remember their memorable appearance here. After all, they represent the Expo at its best: talented people empowered to make unusual art that wouldn't find a home anywhere else.
Content warnings: None! Appropriate for all audiences.
What will be the future of Japan Animator Expo? Khara's been busy with the final Rebuild of Evangelion film for so long, it's hard to say what they'll do next—perhaps work on Hideaki Anno's Ultraman film? There's certainly enough untapped material in these shorts to be expanded into future projects. But more than anything, I'd love for these works to be made accessible once again. Animated shorts may not be as marketable or popular as longer series. But in an industry bent on working people to the bone to produce as much material as possible, we need more projects like Japan Animator Expo that give creators the money, time and space to make work only they could make. Until then: keep an eye on the artists here and elsewhere doing their best, and do what you can to support good work.
What are your favorite shorts from Japan Animator Expo? Have you seen The Dragon Dentist yet? Upset that we didn't mention ME!ME!ME!? Let us know in the comments!

---
Adam W is a Features Writer at Crunchyroll. If Mahiro Maeda is looking to adapt another novel by Karl Capek, perhaps he'd enjoy working on The War With the Newts? Adam W sporadically contributes with a loose coalition of friends to a blog called Isn't it Electrifying? Follow him on Twitter at: @wendeego
Do you love writing? Do you love anime? If you have an idea for a features story, pitch it to Crunchyroll Features!