Check out the real-world locations of The Case Files of Jeweler Richard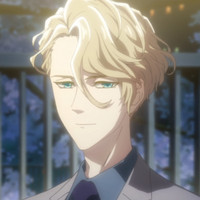 While I have the tristful feeling that the show will keep on being only a hidden gem this season, The Case Files of Jeweler Richard is already gearing up for its grand finale this thursday, with Seigi finally being approached by his long gone father. And while we're still left in the dark as to what prompted this sudden family reunion, it's probably safe to assume that another sparkling gemstone is going to be at the center of it all. But let's leave the appraising and mystery solving to Seigi and Richard, and as always, let's take a look at the show's fitting main setting, which is the dazzling Ginza District in Tokyo.
*All images were taken with GOOGLE STREET VIEW
But before we get to Ginza, let's kick this off where the anime kicked off as well. Seigi and Richard Ranasinghe de Vulpian (what a name!) had their first fateful encounter in a small alley next to the Kanda River in the Nishiwaseda Area, where Seigi managed to save Richard from a bunch of drunkards.
And while I can only assume that the anime also nails all the jewels it features, the real-life locations are certainly spot on.
The fateful encounter happens close to Mishima Bridge, which is easily reachable by Omokagebashi Station, and is actually a pretty quaint cherry blossom viewing spot. After coming to his aid, Richard tells Seigi to stop by at his shop, Jewelry Étranger, in the famous Ginza District.
Ginza is the show's very fitting main setting. Known as Japan's most popular upscale dining, entertainment, and especially shopping district, Ginza boasts numerous department stores, boutiques, restaurants, and nightclubs. Everybody who's anybody in the fashion and cosmetic world runs shops along the prestigious Chuo Street, making it one of the most expensive neighborhoods in the country. So it's only fitting for someone as skilled and elegant as Richard to have his shop in the area, as well.
Tokyo has a couple of iconic street crossings, and the Sukiyabashi Street Crossing in Ginza, where Seigi and Richard always cross paths in the opening of the show, is one of them.
Located right in the center of the Ginza shopping and entertainment district is the Wako Ginza, a luxury department store selling watches and jewelry. The Hattori Clock Tower atop the shopping center is the area's most recognizable landmark.
Richard always makes Seigi pick up his sweets at the Shiseido Parlour in Ginza.
Another one of Ginza's landmarks is the pointy red-brick Sukiyabashi Koban, which is certainly one of Japan's most famous police boxes. Unfortunately, it's not really visible in the anime.
As always, it's fun to see with what kind of imaginative fake brand names anime comes up with to avoid any legal trouble, so Abercrombie & Fitch gets turned into Abarcroma & Etch here, Louis Vuitton gets a rebranding as Louis Buitton, Nikon becomes Niken, and Tiffany & Co. is now a Tfantasy & Co.
Of course Ginza isn't exactly affordable for a university student like Seigi, so he seems to be living somewhere around the Takadanobaba Area.
Seigi first helps out Shoko around the Waseda Area, which is unfortunately not all too spectacular to talk about, but the backgrounds do match up quite nicely with their real-life counterparts.
And there you have the real-world locations of The Case Files of Jeweler Richard. Now, grab yourself some of your finest milk tea, and perhaps some of Richard's favorite pudding, and be sure to tune in to the show's finale this thursday!
Do you also think that the show is a diamond in the rough? Have you ever been to Ginza yourself? Let us know in the comments below!

---
Wilhelm is an anime tourist, who loves to search for and uncover the real-world spots he sees in anime. You can talk with him on Twitter @Surwill or on Instagram wilhelm_donko.
Do you love writing? Do you love anime? If you have an idea for a features story, pitch it to Crunchyroll Features!