CloverWorks, D'ART Stadjio, and more speak on how they've coped over the last few months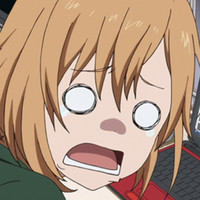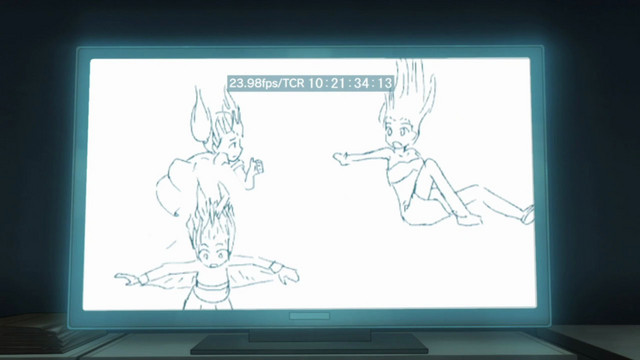 As we previously looked into how the Coronavirus (COVID-19) has affected the voice acting process and anime fans lives in Japan, we're going to explore how the virus, the State of Emergency, and new policies took its toll on anime production as Japan slowly moves to re-open its economy in the last part of this series.
We spoke to various animators, studio heads, and producers to get the inside word on the current state of the anime industry inside Japan and to see how voice acting procedures have changed, what the future might hold as professionals across the board play catch up, and the biggest issue currently facing anime in the aftermath of lifted lockdowns.
Animation and the Coronavirus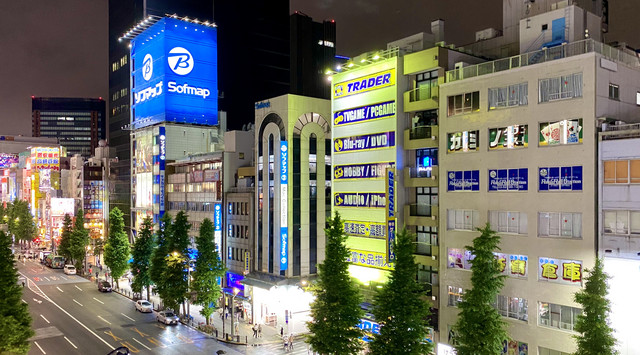 A quiet Akihabara in mid-June (Photo: Daryl Harding)
The State of Emergency in Japan halted the fundamentals of the animation industry, with studios shut down, meetings moved online, and workers adjusting to work from home policies. Many animators, as well as people in production, confirmed with Crunchyroll News that a majority of anime studios were working remotely, even through June. For some though, such as 3DCG anime studios and those doing a post-production process, the transition was a lot harder.
Studios such as Kyoto Animation posted publicly about temporarily shutting down — though they re-opened when the State of Emergency lifted — as did Polygon Pictures, confirming their telework status. Employees and contractors at MAPPA, the studio behind the recently announced Attack on Titan: The Final Season and the upcoming The God of High School, are also working remotely and are, for the time being, on schedule for all their works.
Akira Shimizu, the President of CloverWorks (The Promised Neverland, Rascal Does Not Dream of Bunny Girl Senpai, The Millionaire Detective – Balance: UNLIMITED) spoke with Crunchyroll News about how CloverWorks dealt with and their personal approach to "working from home." Each anime studio has its own method of production, and while there is a lot of overlap in how things work, Shimizu is discussing CloverWorks' methods.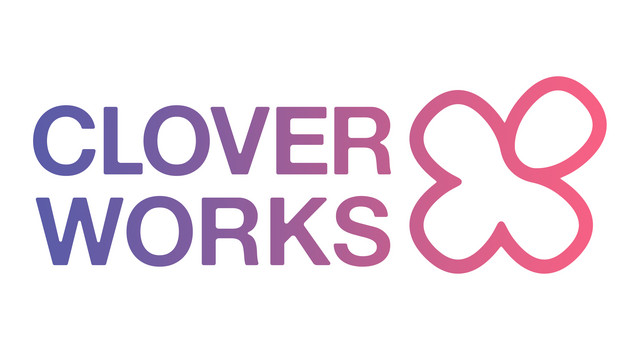 CloverWorks Company Logo
"The way we approached the painting, photography, and art departments was that we sent a PC to some of our employees to use at home. Some people used their PCs that they already have in their house," Shimizu explained. He added that laptops and smartphones were also given to production managers so they can work from home.
This isn't an option for some animators working at CloverWorks who draw on paper, making it "difficult to shift to a work at home system completely," Shimizu said. "Even in the current environment, some things can only be done in the office, such as copying, printing, arranging deliveries, collecting data, and utilizing our company server."
According to Shimizu, the original plan during the State of Emergency was to only have 30 percent of employees go in to work at the office. Shimizu added they were "mostly successful in achieving that number" and, as of June, were able to "operate permanently with 50-60 percent of employees coming to work in the office."
Shimizu also explained that CloverWorks tries to do things like meetings online as much as possible, utilize personalized shift systems as social distancing measures in some departments, and ask employees to check the attendance rate to avoid overcrowding if they must go into the office.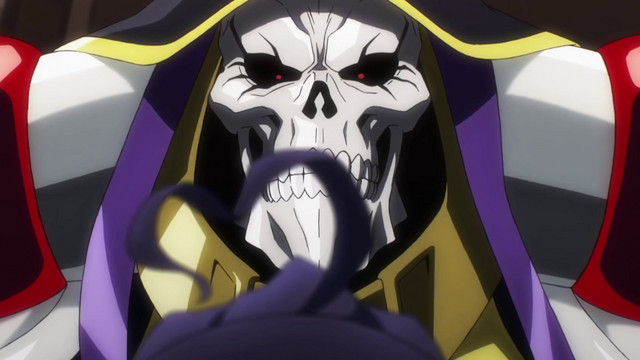 Ainz from Overlord
Henry Thurlow, who is affiliated with D'ART Shtajio and has worked on One Piece, Overlord, and many others, spoke to us over email about the conditions he encountered. Thurlow said while he was still going into the studio most days, "most of [D'ART Shtajio] workers are working from home."
For projects worked on in-house, Thurlow said that most meetings between staff are done online and there are a few more steps involved with making sure everyone has the right files to work on projects, slowing down some of the production time.
For some series such as One Piece, Thurlow explained that as a subcontractor "production schedules we had been working with were suddenly meaningless."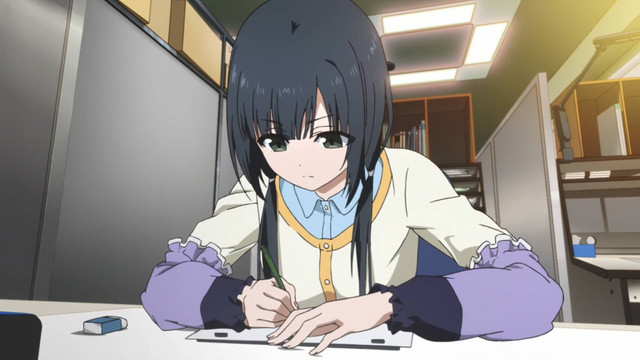 Ema Yasuhara from Shirobako
One might think the delays would give more time to work on an anime series that may have been delayed to give it that extra polish. Sadly, with the nature of how anime is produced, the budgets allocated to a studio are usually fixed and more cash can only be injected into the studio for a project if there's enough money from the production committee to do so. This means that an anime studio will need to find the funds themselves to pay staff if they want to spend more time working on a project.
An investigation from Mantan Web in early June found on average it took twice as long to produce anime than before the State of Emergency.
Shimizu had his own take on how long anime is taking to be produced. "Due to the rapidly changing situation due to the Coronavirus, we were limited in the way [CloverWorks] could respond to the epidemic. Therefore, we had to compensate for the reduction in efficiency with time. Considering the safety of our employees, this was the only thing we could implement as a company in this short span."
The Current State of Voice Acting in Anime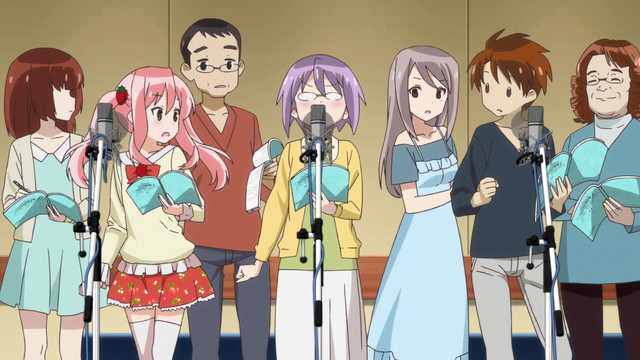 How anime is usually recorded...
In late April, we looked at how voice acting was suspended due to the State of Emergency and the difficulties of ramping up audio recording due to the set up of Japanese recording booths ⁠— where usually multiple people are in one booth and recording is done at the same time, episode by episode.
There are reports of voice recording resuming since the State of Emergency declaration was lifted, though not without some changes. Crunchyroll News had the privilege of sitting in on a virtual recording session for an upcoming TV anime series, and what we saw was a very empty recording booth with only one actor recording their lines.
The virtual recording session was done over Skype (but can be done over other programs, depending on the set up) with the production committee, staff, and director calling in and giving directions to the actor, with only the audio engineer in the physical studio with the actor. A video feed of the booth and the storyboards/animation was provided to viewers calling into the session.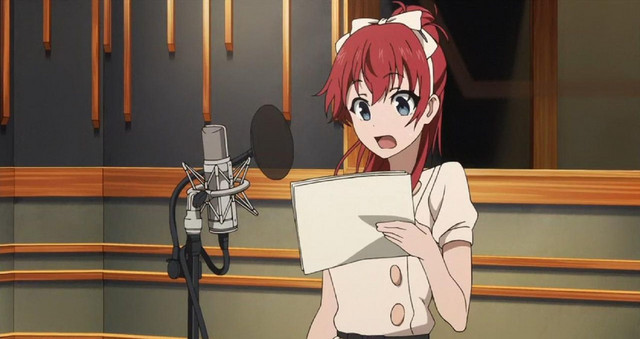 How anime is currently recorded ...
Microphones were set up in the booth as they usually would be, but now included plastic panels, separating the microphones. The committee would give feedback over Skype, which was then funneled to the studio through the staff in the booth.
Unlike the episode by episode recording sessions, multiple episodes were recorded at once, with the actor recording as many lines as they could for their time slot. Once that slot was over, the studio was cleaned and the next person would come in to record their lines.
Sally Amaki (Sakura Fujima in 22/7) made a video detailing her own experience as a voice actor in this current time, giving a tour of a studio in Tokyo that looked very similar to the one that we got to see.
The Production and Planning Process
The other big hurdle the anime industry is facing is the number of currently produced anime with nowhere to go.
One producer told Crunchyroll News the current fight for TV anime is over broadcasting slots. With 80-100 titles currently duking it out over the limited amount of broadcast space, it's getting harder to air on Japanese TV, which is still one of the primary ways anime is shown in Japan.
According to the producer, there are around 50 slots for a 30-minute episode of anime per anime season for TV broadcasting, and that priority is currently given to shows that are nearly finished production or have already finished.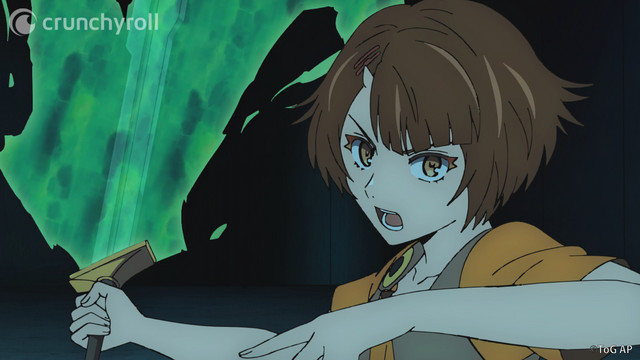 Endorsi from Tower of God
A producer at Crunchyroll's Tokyo office confirmed with Crunchyroll News that Tower of God was completed long before the broadcast date due in part to the clearance process of Chinese rating boards to be allowed to stream in China and that many other shows were rushing to beat the China lockdown so they could be shown in the country. Then came the rush to beat the State of Emergency in Japan, where many series, like Hatena☆Illusion, were not able to be finished in time. Luckily, only minor work needed to be done to complete it.
In saying that, the domino effect of series being postponed will continue for a while. Some TV anime that were set to premiere in April could be pushed back to October (or even later) with more delays to be expected, including anime series with already confirmed dates. We've already seen some anime, such as Tsukiuta. THE ANIMATION 2, delayed from April to July, and then postponed again to October.
This has caused some production committees, especially for series which are officially announced but do not yet have a date, to be hesitant to even give a premiere date due to how fluid the situation is.
The Future of Anime Production Post-COVID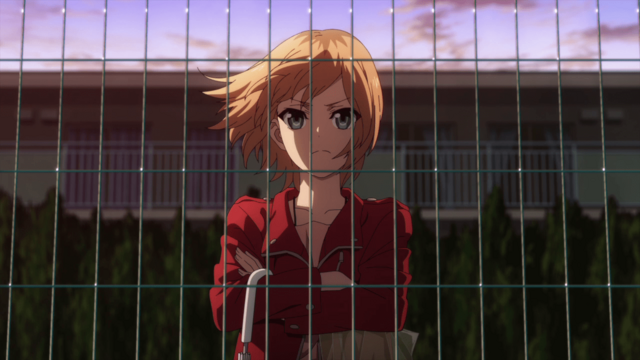 Aoi Miyamori from Shirobako
There are still some parts of anime production that are largely unchanged, with some aspects still as analog as they were in the '90s, but the Coronavirus has quickly and swiftly made a lot of the industry move forward with the times. Shimizu said he hopes in the future CloverWorks can "eliminate working with paper as much as we can when creating anime," which allows "the intermediate work carried out by the production managers to also be done digitally."
Since a lot of anime is created by freelancers, with varying home lives and situations, Shimizu said the studio is looking at their work from home options. "[CloverWorks] would like to support the creation of an environment where not only employees but also [freelance] animators can work actively using a PC," Shimizu said. He added the studio hopes "to create an environment where work can be done efficiently from anywhere." But for now, Shimizu said the studio is looking to continue making essential reforms, including the development of infrastructure within the company to make this possible, incorporating elements CloverWorks has found to work well during the State of Emergency.
For Thurlow and D'ART Shtajio, breaking past the Coronavirus will be difficult due to canceled or postponed projects. Thurlow worried for a while if even rent for the studio could be paid.
"Things have been getting back on track," Thurlow said, but openly asked, "are there any clients/companies willing to pay upfront to help mitigate some of the damage for all the lost work?"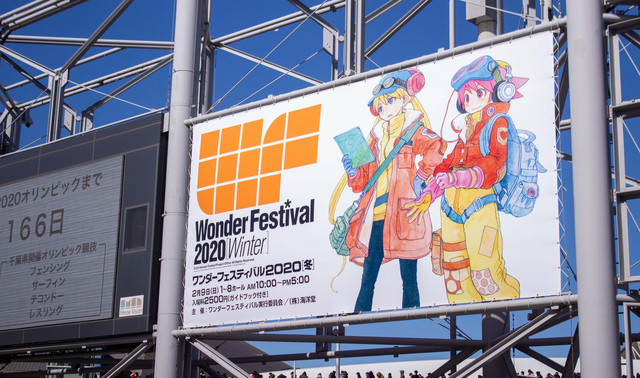 Wonder Festival 2020 Autumn has been canceled, the next showing is scheduled for Winter 2021 (photo: Daryl Harding)
While many real-life events are canceled due to the new measures implemented on venues in Japan and around the world must follow, producers and production committees say they're looking at ways to still bring the anime experience to people.
"Even though the tools we use and the environment we work in might change, one thing will stay constant," Shimizu said discussing the philosophy at CloverWorks. "And that is our aspiration for creating high-quality animation just as we did until now."
---
We would love to thank everyone who spoke to us about the turbulent times the anime industry has gone through, providing valuable information, quotes, and background information for the above piece.
While things have been slowly getting better in Japan, with fewer cases of the coronavirus per day than in early March, Tokyo is still seeing larger numbers than the rest of the country, with 107 new confirmed cases on July 2, the largest amount since early May.

---
Daryl Harding is a Japan Correspondent for Crunchyroll News. He also runs the YouTube channel about Japan stuff called TheDoctorDazza, tweets at @DoctorDazza, and posts photos of his travels on Instagram.