Reps from ZANEEDS, Danceroid, and Vocalekt Visions discuss the future of VOCALOID music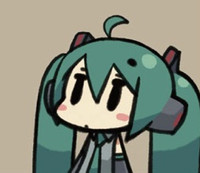 Sunday afternoon, Brian Zisk of the SF Music Tech Summit hosted a VOCALOID conference called "The Voice of Future Music" as part of J-Pop Summit Festival 2011 in San Francisco's Japantown. It seemed a bit like the organizers wanted to expose VOCALOID to people who may not have been familiar, but given the $10 entrance fee, it seemed like most people who attended were already fans, or at least interested.
The panel consisted of two members of VOCALOID creative team, ZANEEDS: director and DJ Torinos and designer PPRP; Ikura and Kozue from the dance collective, Danceroid; and finally Tempo-P from the Western VOCALOID production group, Vocalekt Visions. There were a handful of breaks in the talk to introduce clips of each group's works, including the theme of this year's J-Pop Summit Festival, ZANEEDS' Tokyo Beat.
Sorry for the low quality image, but you see from the left: the interpreter (on the stool), PPRP, Torinos, Kozue, Ikura, Tempo-P
To kick things off, Zisk requested basically a state of VOCALOID ("what's current, what the future holds") from Tempo-P, who took the opportunity to show off copies of the actual singing voice software. He explained that they are still not on sale in the United States, so you have to jump through some hoops to get them sent from Japan, although he did mention the VOCALOID-esque freeware product called UTAU.
Next, Zisk asked ZANEEDS to explain what is so special about Hatsune Miku and VOCALOID in general. Torinos replied:
"The most interesting thing about Hatsune Miku is that it's something that is very participatory—there is a whole community built around this format of Hatsune Miku and within that community you can share your creations and opportunities. So some of them are writing songs with Hatsune Miku, some people make videos, some try to dance like her[...]
"Let's say a hit music [artist] creates new songs each year, and probably the most she could make is ten songs a year, but compared to that, because so many people are involved in it, about 50,000 Hatsune Miku songs [come out] per year. So I think that is the greatest difference between traditional media up to now and this new media which is Hatsune Miku."
Zisk followed up by asking about parallels between VOCALOID content creation vs. on the Internet in general, and if it seems like it will continue to grow in popularity. Torinos commented again:
"Absolutely, I am sure that it is a culture that can continue to grow. [...] in traditional media the audience used to enjoy content [by] listen[ing] to music or watch[ing] a movie, but in this new form of media [people can] participate in the production of a movie or song[…]
"Also, as you have noticed as the tech grows, creating music has become simpler over the years. First, the emergence of synthesizers, and it became a little easier. Then, the sampler made it a little easier, but Miku goes beyond that and makes it more accessible for many people to create music."
Another upside of working with VOCALOID software is that it's a relatively level playing field. Torinos explained:
"Within this community what's interesting is that the level of the fame and how known you are is not equal to your popularity. It doesn't matter if you're amateur or pro. The quality of your work is something that creates those opportunities in the community."
Torinos also talked about how memes take off on Nico Nico Douga using the example of Peyangu dabaa, a song about accidentally losing your noodles along with the water you are trying to drain out:
"So it's a common mistake when you dump the water, that the whole thing comes out. I'm sure some of you have had this problem before at least once in your life, so everything in this video was based on that particular topic. This was actually a video that got the #1 ranking on Nico Nico weekly. The interesting thing about Nico Nico [is that] the audience demands something which can start a conversation. So what emerged from this is that it wasn't really the song itself that was interesting for people, but the topic related to it that caught many people's attention; it reminded them, 'Oh yeah, that happeend to me before; that sucked,' and people from there started to make spin-off videos and other music."
Another example you may be familiar with is how Miku is often seen holding a leek. That also spread from one video since it was "so bizarre and hilarious."
Zisk addressed Danceroid next, about how dance culture has developed on Nico Nico Douga. Kozue explained odotte miru:
"Odotte miru is a category on Nico Nico. Even before Hatsune Miku there was that category [where] people could dance to an anime ending or a dance by an idol—something that already has a routine set up. However, two years ago people started to create their own dances to Hatsune Miku music, and then they started uploading to Nico Nico and that itself became its own genre."
It turns out the girls got into the scene simply because they were bored. Ikura elaborated:
"So for me, the very first time I uploaded my own video dancing was cuz I was bored. […] I started to notice the feedback from the Nico audience, and that feedback and critique that I received was really compelling me to do more videos. [Then] someone contacted me about becoming a Danceroid, and I was interested, so I decided to try out."
Zisk asked if they thought VOCALOID could catch on in the rest of the world like it has in Japan. Kozue replied:
"We were actually the opening act for Hatsune Miku at the Anime Expo this year, and there at the Nokia Theatre we witnessed a full house—basically it [was] exactly the same, or more, like it would be in Japan. So it's already at that level of fandom; it already exists in the states."
When asked how American VOCALOID culture is developing, Tempo-P was adamantly positive:
"America, especially the Bay Area, is the next Japan in terms of VOCALOIDs. We're gonna see amazing changes. As we all know, Toyota came out with a commercial using Hatsune Miku. That's a big step forward in spreading VOCALOID. We know of the AX concert—Hatsune Miku sold out. This is just the beginning of what is going to be a fantastic time to know about VOCALOIDS [and be a part of it.]"
He and his Romanian partner collaborate via Skype and stayed up 3 days and 2 nights straight to finish their first single because they were so excited.
During the Q&A, Torinos responded to a question about how people who don't speak Japanese can get involved in VOCALOID music production:
"So the rumor goes—and this is only a rumor, but there will be an English version of Hatsune Miku very soon. So you should wait a little longer and get that to create your own. (But this is really a rumor.)"
There was some discussion of what might happen if an American celebrity such as Lady Gaga lent their voice to a VOCALOID product, but probably the other most lively question was about whether major corporations using the VOCALOID characters is a good or bad thing. There are so many different styles of Miku, for instance, that having a coporation use just one and spread that version could stifle creativity in the community. Torinos addressed this issue by saying:
"So, our [music] is actually not in the videogame, Project DIVA. We turned them down twice. The reason we turned them down is cuz when we start to get involved in corporate projects, we start to lose our freedom and creativity. [The community is] really democratic—the best projects/songs that people like get acknowledged the most—but now it's a matter of a creator's brand. Like if supercell creates a song, it'll be big. So it starts to be not so much about the quality of the music itself, and more about how much marketing effort you had put into those projects.
"[…] back when Hatsune Miku emerged there were a lot of creators who were absolutely talented—probably the best. They used to be around when it started, but [...] when the business started to come into place, their passion level dropped. At the same time it's true that the market for Hatsune Miku has grown to reach, like, kids in high school or junior high. They have access to use the software, more people are participating, and we all owe it the effort to make it in the mass media market."