Second film in series set to open in Japan on July 14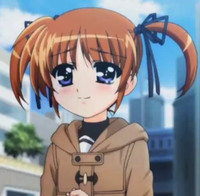 Following up 2010's first movie, Magical Girl Lyrical Nanoha the Movie 2nd A's is set to open in Japanese theaters on July 14. The official site is now streaming the film's teaser, and you can check it out along with info on bonuses for ticket purchasers below.
Those who nab tickets can also pick up one of three A2-size clear posters by character designer Yasuhiro Okuda at Animate stores, or one of three posters illustrated by Takuya Fujima (Magical Girl Lyrical Nanoha ViVid manga) at Gamers stores. Both sets of posters offered feature Nanoha, Fate, or Hayate.
Gamers stores will also be offering a booklet of drawings by popular illustrators with tickets in May, and talking Speacot figures of either Nanoha, Fate, or Hayate in June.
Other upcoming promotions include A3-size metal posters with printed autographs from voice actresses Yukari Tamura and Nana Mizuki, available at Japanese theaters starting March 17. On March 22, convenience stores Circle K and Sankus will begin offering Nendoroid Petit charms sets with tickets. I hope that's enough Magical Girl goodness for everyone!
Via ANN