Announced at Anime Contents Expo by cast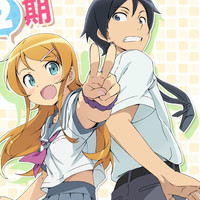 At the Anime Contents Expo stage held by Yuuichi Nakamura (Kyousuke), Kana Hanazawa (Kuroneko) and Ayana Taketatsu (Kirino) entitled "Yuuichi no Manma 2 ~Taketatsu to Hanazawa ga Debut-suru Wake ga Nai~," it was announced that Ore no Imouto ga Konna ni Kawaii Wake ga Nai (aka OreImo) will be getting a second season.
(Season 2 key visual from Dengeki Online)
The official site has updated to announce that production of season two has been green lit and the official twitter for Kirino from OreImo has revealed that more details will be revealed in an article on Akiba Blog tomorrow, which frequently has first reveals from the OreImo series. The first season previously aired in Fall 2010 with 4 web episodes during Winter and Spring 2011. Aniplex USA has licensed and released the first season in North America.
Update: The story about an opening song by Taketatsu and Nakamura that is floating around is an April Fools joke. (Twitter Source)
via 0takomu
Image ©Tsukasa Fushimi/ASCII MEDIA WORKS/OIP
Update: Additional details, corrected stage info, added key visual