One Lucky Winner Will Rent a Bullet Train For a Day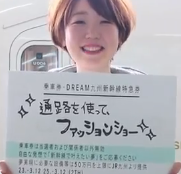 What would you do if you had a whole Bullet Train all to yourself for a day?
JR Kita Kyushuu is holding a contest titled "DREAM Kyusyuu Shinkansen (DREAM Kyushuu Bullet Train)". Applicants are to enter their "dream" of what they will do if they had a Bullet Train all to themselves.
This is the train you can rent.
The winner will be able to have up to 350 guests on board with you to travel from Hakata to Central Kagoshima on JR Kyusyuu. They will also take care of any expenses to make the winner's dream come true on the train up to approximately $5,000 USD.
Some of the entries that are already submitted are "dream wedding on train", "turn the bullet train into a club", "a long awaited family trip", "to operate Train Conductor Cafe" (that's one of us right there), "a dinner with a table as long as the length of the train", and "to have Real Escape Game on train". The contest will be closed on March 29th, Japan time.
What would you do?
Source: NAVER