The peach taste cider is available in Ashiya-cho, Fukuoka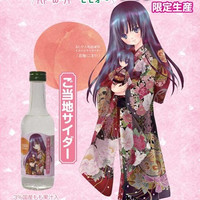 PEACH-PIT, two-member manga artist unit who is known for their popular Rozen Maiden and Shugo Chara! series, has supported "Ashiya Ningyou Kanshasai" (Ashiya Dolls Thanks Festival) in Ashiya-cho, Fukuoka Prefecture, with their original character Komari. The festival is based on a legend about a doll which saved the town from the epidemic by sacrificing itself.
PEACH-PIT first visited the festival in 2006 and the main characters of their doll-featured manga Rozen Maiden were used as the official mascots of the event. In April 2013, they donated their newly-drawn original character Komari, who is holding a doll named Minako, to the festival. This year, the festival and near stores have offered a 260-yen cider bottle with a label of Komari's illustration. After the name of PEACH-PIT, the taste of the limited-cider is, of course, peach. The three-bottle set (1,000 yen) also comes with a postcard of her.
Source: Comic Natalie
© 2013 PEACH-PIT, Fukuoka Prefecture Ashiya-cho Ningyou Kanshasai Executive Committee