Fans voted to choose which character did the intro video and the 6th character was revealed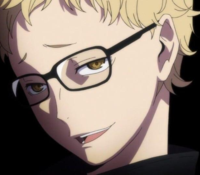 Volleyball anime Haikyu!! has its first Nintendo 3DS game in Haikyu!! Tsunage! Itadaki No Keshiki!! slated for release on September 25th and whom is best to explain what the game is about? The characters! The game's official site recently conducted a poll to find out which character fans wanted to see in the intro video and the 6th character was revealed with his video, where he explained the game's overview.
Kei Tsukishima came in 6th to explain the game overview and did his best to do what he was expected to do with lots of omission. He says the volleyball matches in the game will be "in the regular card game style, so you may have a hard time if you are not smart (smirk)".
image via official site
The interim report of the poll was published back in July and Tsukki was at second place. I'm not suprised that Suga-senpai is at the top, but will he be able to defend the spot? we will find out when the full result is available soon. The official site will release them one by one having the character do a video like the above.
Source: Nijimen
(c) 古舘春一/集英社・「ハイキュー!!」製作委員会・MBS
(c)BANDAI NAMCO Games Inc.