Manga author posts countdown illustrations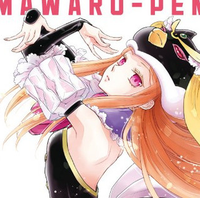 The first volume of the manga adaptation of Kunihiko Ikuhara's Mawaru Penguindrum will be released on September 24th in Japan! The manga's author, Isuzu Shibata has been posting countdown illustrations on her blog featuring characters from the series to celebrate the launch, especially the ones who have never been drawn in color for the manga. The Mawaru Penguindrum manga started running in the monthly magazine Comic Birz in 2013.
The cover of manga vol. 1.
Count down illustration 1:Yuri & Tabuki couple
Count down illustartion 2 : Ringo Oginome
Count down illustartion 3: Masako Natsume and Esmeralda
Count down illustration 4: Himari Takakura and Penguin 3
More illustrations are planned to be posted on her blog, although she admits that she is never on time, until the day of release.
Source: Isuzu Shibata official blog
Copyright ©ikuni chowder,pengroup / Isuzu SHIBATA All rights reserved.