Home video release planned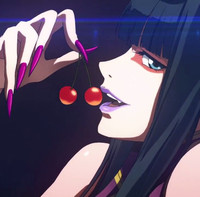 Sentai Filmworks' has announced the license of Dai-Shogun -Great Revolution-. The action sci-fi mecha series is directed by Takashi Watanabe (Demon King Daimao, Shakugan no Shana) with series composition by Dai Sato (FREEDOM, Eureka Seven), mechanical design by Makoto Ishiwata (Gargantia on the Verdurous Planet, Valvrave the Liberator) and animation production by J.C. Staff (The Familiar of Zero, Dream Eater Merry) and A.C.G.T. (The Future Diary, Project Blue Earth SOS).
They describe the show
In the land of the rising sun the horizon is darkened by a fleet of black ships from foreign soil . Just when it seems that all hope is lost ancient mecha of unknown origins appear, pushing back the black ships and forever altering the course of history. Thus, the timeline splits and a new Japan is born, one free of modernization and foreign influence. In this country secluded from the world, an energetic young man known as Keiichiro Tokugawa faces off with his greatest enemy- boredom. Keiichiro yearns to leave behind his life at the family bathhouse and prove himself as a real man once and for all. But can a virgin who breaks out in hives at the faintest touch of a woman really become a hero for his nation? Especially when he's surrounded by beautiful women at every turn, from his family's striking shinobi servant, Kiriko, to the feisty fugitive half-fox, Chiharu. Keiichiro's dream of a life of action and adventure is about to be fulfilled- in a very big way! Witness the dawn of a new era in DAI-SHOGUN- GREAT REVOLUTION-!




Dai-Shogun -Great Revolution- will be available soon through select digital outlets with a home video release to follow.
------
Scott Green is editor and reporter for anime and manga at geek entertainment site Ain't It Cool News. Follow him on Twitter at @aicnanime.