The latest episode hits Japanese theaters July 4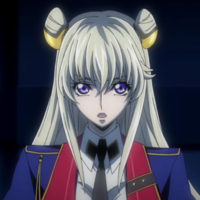 The official website for Code Geass: Akito the Exiled today posted a 70-second trailer for the upcoming fourth chapter "Nikushimi no Kioku Kara" (From the Memories of Hatred), which is scheduled to be released in Japan on July 4. The third chapter "Kagayaku Mono Ten Yori Otsu" (The Shining One Falls from Heaven) has been screened since May 2, ranking a very good 10th in its first weekend.
Though originally planned as a four-chapter series, it was announced on the premiere day of the third chapter that the fifth chapter titled "Itoshiki Monotachi e" (To Beloved) was already in the works as the final installment of the series for a 2015 fall release.
Chapter 4 "Nikushimi no Kioku Kara" trailer
Key visual
Chapter 1: "Yokuryuu wa Maiorita" (The Wyvern Arrives)
Chapter 2: "Hikisakareshi Yokuryuu" (The Torn-Up Wyvern)
Chapter 3: "Kagayaku Mono Ten Yori Otsu" (The Shining One Falls from Heaven)
Source: "Code Geass: Akito the Exiled" official website
©SUNRISE/PROJECT G-AKITO Character Design ©2006-2011 CLAMP,ST