Directed by Kidai Hiramine (Locodol episode director)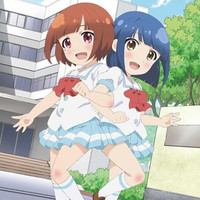 The official website for SuzakiNishi The Animation, the upcoming TV anime inspired by the internet radio program SuzakiNishi featuring anime voice actress Aya Suzaki and Asuka Nishi, has opened with its main character visual designed by Yumi Shimizu (Locodol).
The 12-epsiode series animated by feel. (My Teen Romantic Comedy SNAFU TOO!) will premiere on Tokyo MX (21:55-), Sun TV (23:40-), and TV Kanazawa (26:45-) on July 8. Its story features the two VAs as tranfer students who enroll in a high school in Tokyo and tells their everyday life. They also perform the theme song as the unit "SuzakiNishi."
【2/4】『洲崎西 THE ANIMATION』公式サイト(http://t.co/dE1FuIcabj)のオープンに合わせて、キービジュアルもドドーンと公開させて頂きま した! こちらからもご確認いただけます!  #洲崎西_アニメ pic.twitter.com/jp7eJf3W3V

— 洲崎西 (@suzakinishi) June 26, 2015
The radio program has been broadcasted on Bunka Housou's Cho! A&G+ at 25:00 every Tuesday since
July 2013, and currently its 104th episode is available. It focuses on discussions on ideas and namings
for various new products, projects, and services. The two have also tried job training programs to create
new business scheme.
Aya Suzaki and Asuka Nishi
Source: "SuzakiNishi The Animation" official website
© SuzakiNishi Seaside Communications/SuzakiNishi Production Committee