These wacky promo products are now going into production!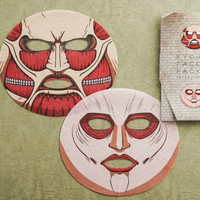 Want to look exceedingly scary while you're taking care of your skin? You need these cheeky Attack on Titan face packs, adorable items that were popular in the April 2015 issue of beauty magazine Voce, published by Kodansha.
Except those were just for promotional value. Now, the face packs are actually going into mass production so it can be sold in stores! You can choose from Colossal Titan or Female Titan, which "beautifies" your skin. There will also be Avengers: Age of Ultron masks as well, and each will run about 900 yen apiece.
Can you think of a cooler way to take care of yourself? The only thing that comes to mind are those awesome black Biore nose packs, but these still take the cake.
[via Tokyo Otaku Mode]
-------
Fueled by horror, rainbow-sugar-pixel-rushes, and video games, Brittany is a freelancer who thrives on surrealism and ultraviolence. Follow her on Twitter @MolotovCupcake and check out her portfolio for more.