Takaaki Suzuki (Strike Witches, Girls und Panzer) serves as the original story creator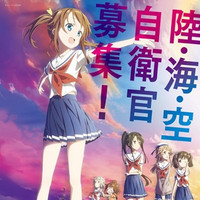 The official website for Japan Self Defense Force's Kanagawa Provincial Cooperation Office has posted a visual for its latest recruitment poster featuring the school uniform girls from the ongoing High School Fleet TV anime. It was newly drawn by the anime's character designer/chief animation director Naoto Nakamura. The anime's title was changed from the initial Haifuri after the first episode premiered on April 9 (at least in Japan).
As reported, JSDF's Tokyo Provincial Cooperation Office previously collaborated with the GATE TV anime for its recruitment posters in June 2015, since the protagonists of its story were JSDF officers and the based novel's author Takumi Yanai was an ex-official.
High School Fleet/Haifuri is an original anime series based on the story created by Takaaki Suzuki, best known as the military adviser for Strike Witches and Girls und Panzer. Considering this collaboration,
the anime is expected to be a very military-friendly series.
Recruitment poster visual
自衛隊神奈川地方協力本部とTVアニメ「ハイスクール・フリート」のコラボポスター完成!https://t.co/HWf1soRbd4 #はいふり pic.twitter.com/ok0cWGtLAv

— 「ハイスクール・フリート」公式 (@hai_furi) April 9, 2016
Maritime Self Defense Forces's official Twitter also helps promoting the anime
おはようございます。いよいよ本日深夜 10日 0000i 横須賀を舞台に、海の安全を守る職業を目指す女の子たちを描く『はいふり』が始まります!https://t.co/FwVXmxghcu #はいふり pic.twitter.com/jzni3utXAZ

— 防衛省 海上自衛隊 (@JMSDF_PAO) 2016年4月8日
High School Fleet/Haifuri is available to Crunchyroll members in North America, Central America, South America,
UK, Ireland, Australia, and New Zealand.
Source: TV anime "High School Fleet" official website
© AIS/Maritime Safety Development Bureau