Create your own RPGs in style!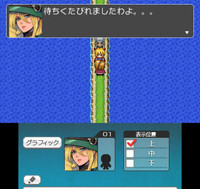 The RPG Maker series has always been an awesome way for players to get into the game-making scene, via lots of tools that can be easily learned for newbies and anyone looking to break in without too much trouble.
Kadokawa Games have released additional details on the upcoming 3DS entry of the RPG Maker series:
Make a Genuine RPG with a Complete Database
A number of settings have been prepared to help players create a genuine RPG in RPG Maker Fes. Besides new characters and monsters, various items like weapons, armor, accessories, and so on will have "properties" and "resistances" that can be easily set by just selecting them.
Choose a Protagonist and Characters to Form the Party, and Bring them to Life
You can set the details of the characters' sprite, name, occupation, offensive ability, and so on. Of course, there will be sample settings prepared, so by making minute adjustments to the game balance you like, you can significantly shorten the amount of time it takes to finish making settings.
Make Use of Various Enemy Character Settings, and Enhance Your Game
Enemy character settings are another important point to enhancing your RPG. By configuring six types of properties and nine types of resistances, attack properties will rise and you can create an even more genuine RPG. Also, if you want to make battles more difficult you can set HP and other things according to certain variables.
Easily Adjust Advanced Settings Like Special Moves, Weapons, and Armor
There are of course advanced settings for the protagonist's or main party's tools and special skills! Together with enhancing the game properties, you can set the vital and flashy animated cut-ins that are produced in battle.
Preset a Wealth of Event Direction Settings
It's also possible to easily set directed events that liven up the story! There are 10 items you can control to direct an event such as message control, movement control, situation control, and so on. Of course, you can also set occupation change events that are so indispensable to RPGs.
Easily Set Walls to Pass Through
Even settings like "There's an entrance to a parallel universe in the house!" can be made easily in RPG Maker Fes. While normally not displayed, you can control the characters' field of movement by pressing the "collision detection" button to display the areas with collision detection, then add or delete collision-detection with the stylus.
Check out the screens below!
[via Gematsu]
-------
Fueled by horror, rainbow-sugar-pixel-rushes, and video games, Brittany is a freelancer who thrives on surrealism and ultraviolence. Follow her on Twitter @MolotovCupcake and check out her portfolio for more.