Toei Animation's magical girl anime series aired for four seasons from 1999 to 2002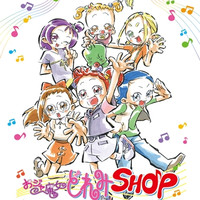 Toei Animation today announced that a time-limited shop dedicated to its Ojamajo Doremi anime franchise will open in the Limited Base section on the third floor of the Ikebukuro P'PARCO department store between March 17 and April 5. The section has currently opened a store for Digimon Adventure tri. till March 15.
To mark the special occasion, the anime's original character designer Yoshihiko Umakoshi (HeartCatch PreCure!, My Hero Academia) provides newly-drawn illustrations for the store. During the period, shoppers will randomly receive one of the six special postcards featuring his Ojamajo Doremi character illustrations with each purchase of at least 3,000 yen. The limited items offered at the store include: a premium music box with the melody of "Ojamajo Carnival!" (TV anime 1st season's OP song), back charms, scrunchies, ball-point pens, and spoons.
The first four Ojamajo Doremi TV anime series, Ojamajo Doremi, Ojamajo Doremi #, Mo~tto! Ojamajo
Doremi, and Ojamajo Doremi Dokka~n!, was aired in Japan from 1999 to 2002, then the 13-episode OVA
Ojamajo Doremi Na-i-sho was released from 2004 to 2005. Kodansha has published the sequel light novel
series Ojamajo Doremi 16, which is set three years after the 4th TV anime, focusing on the protagonist
characters who become high school students.
Event main visual
Postcards
Source: Toei Animation press release
(C) Toei Animation