Preparing for a home video release, at this weekend's Sakura-con, Funimation announced who's who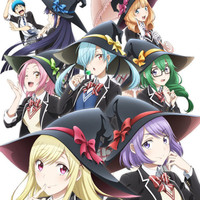 Preparing for a home video release, at this weekend's Sakura-con, Funimation announced the English dub cast for Liden Films' 2015 anime adaptation of Miki Yoshikawa's Yamada-kun and the Seven Witches.
Synopsis:
Suzaku High School has a big secret. One that punk student Ryu Yamada finds himself tangled in after a literal run-in with honor student Urara Shiraishi. The two find themselves in a bizarre body swap caused by…a kiss?! A convenient albeit weird new trick, the two keep switching places (and kissing!) until they're found out by student council member Miyamura. Rather than give them away, he has a better idea—reform the Supernatural Studies Club. A great cover up…except for the fact that Yamada keeps kissing everyone!
Soon they learn they that aren't the only two with abilities. In fact, school legend speaks of seven witches—female students gifted with different powers. But when they start seeking out the witches, they find themselves in a situation more dangerous than expected. Secrets kept by the student council, the powers that lie with the witches, and the possibility of losing everyone he's grown close to—are the answers Yamada seeks worth the cost of everything he holds dear?
Main Cast
RYU YAMADA – Newton Pittman
URARA SHIRAISHI – Mikaela Krantz
Supporting Cast
MIYABI ITO – Rachel Glass
TORANOSUKE MIYAMURA – Todd Haberkorn
NENE ODAGIRI – Jessica Peterson
USHIO IGARASHI – Will Short
MEIKO OTSUKA – Michelle Rojas
MARIA SARUSHIMA – Tabitha Ray
NOA TAKIGAWA – Alexis Tipton
KENTARO TSUBAKI – Orion Pitts
MIKOTO ASUKA – Jeannie Tirado
HARUMA YAMAZAKI – Seth Magill
LEONA MIYAMURA – Elizabeth Maxwell
SHINICHI TAMAKI – Chris Burnett
RIKA SAIONJI – Luci Christian
Crew
DIRECTOR – Kyle Phillips
WRITERS – Kristen McGuire (1, 3, 5), Niki Schultz (2, 4, 6-12)
-----
Scott Green is editor and reporter for anime and manga at geek entertainment site Ain't It Cool News. Follow him on Twitter at @aicnanime.