Season Two starts tomorrow, 7/11 at 7am PT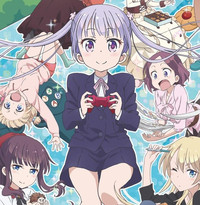 A new week means new streaming announcements at Crunchyroll, and the first (but not the last of the day) is New Game!!, which is the second season of the anime based on the manga by Shotaro Tokuno about a group of young ladies working as game developers.
NEW GAME!! begins streaming tomorrow, Tuesday 7/11, at 7am PT and will be available to members worldwide except Asia.
Synopsis:

After graduating from high school, Suzukaze Aoba starts work at the game company, Eagle Jump where she ends up working on the third installment of the game she loved as a child, "Fairies' Story." Aoba then meets Yagami Ko, who inspired her to become a character designer in the first place, and other senpai at her new job who help her grow along the way.


"Fairies' Story 3" launched with no problem and now it's been about a year since Aoba first joined Eagle Jump. The season to welcome in new employees has arrived.


Aoba reflects upon how nervous she was when she first started and gets excited about the fact that she was now going to be the senpai.


She repeats, "I'm your senpai, Suzukaze Aoba. Nice to meet you!" in front of the entrance of Eagle Jump, but...


A working life comedy about the daily lives of girls working at a gaming company begins its new chapter!
---
Patrick Macias is editor in chief of Crunchyroll News & Otaku USA magazine. He is currently serializing his latest writing project, PARANOIA GIRLS, on Wattpad.