Gackt lands on Top 150 Player List for most recent tournament in Las Vegas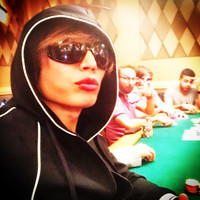 Remember when Gackt used his Instagram account to reveal that he moonlights as a pro poker player on the World Series of Poker Tour when he's not recording or touring earlier this year?

Gackt sitting at the table during "Little One for One Drop" tournament
It seems that his skills have improved markedly since January, as the singer and sometime actor has landed on the World Series Of Poker Tour's list of the Top 150 poker players in the tournament, further cementing his status as a player to be reckoned with, instead of the typical perception that celebrity poker players aren't as focused on high level play and usually limiting appearances to low-stakes charity tournaments. The tournament featured over 4300 players playing across four days, making the accomplishment more impressive.

Gackt with WSOP Champion Daniel Negreanu
During this past weekend's "The Little One for One Drop Tournament" held in Las Vegas, Gackt landed on the WSOPs Top 150 list at #133 after winning a side tournament with total winnings of $3454 and receiving praise from WSOP champion Daniel Negreanu via video posted on Gackt's Instagram page. Gackt ended up losing in the main event, but landed solidly in the aforementioned list, which is sure to make observers pay attention to his progress as a player in the future.
via Netlab

Headline image via Gackt Official Blog