Noriyoshi Sasaki (Ojisan and Marshmallow) serves as director for Seven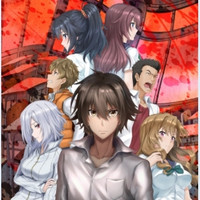 The official website for the upcoming TV anime adaptation of Nobuaki Kanazawa/Pakkuncho's cell phone novel Oosama Game/King's Game today posted a 90-second long PV announcing its October 5 premiere on AT-X in Japan. You can also listen the anime's ED song "Lost Paradise" performed by 29-year-old singer/voice actress Pile, who is best known as Maki Nishikino in the Love Live! franchise.
She also joins the anime as Ria Iwamura, one of the 32 students who are forced to join the death game ordered by the mysterious "King". The song will be released as her 7th solo single on November 29.
Long PV
Pile
【ED主題歌決定】
本作に岩村莉愛役としても出演しているPileが本作のED主題歌を担当! タイトルは「Lost Paradise」疾走感のあるロックテイストで、一度聴くと忘れられなくなるような曲調になっていますhttps://t.co/hZVEYDtdgx#アニメ王様ゲーム pic.twitter.com/JlVYpJzDvX

— アニメ「王様ゲーム」公式 (@kingsgame_pr) 2017年9月5日
Ria Iwamura character visual
【「王様ゲーム The Animation」キャラクター紹介】
▽私立汰魔丘学園
岩村莉愛(CV.Pile)https://t.co/c3FHa9bXEG #アニメ王様ゲーム pic.twitter.com/u6NNOukTaE

— アニメ「王様ゲーム」公式 (@kingsgame_pr) 2017年8月16日
The OP song "FEED THE FIRE" is performed by five-member rock band coldrain.
【OP主題歌決定!】
日本国内にとどまらず、海外でも高い評価を受けるバンド「coldrain」が本作のOP主題歌を担当! タイトルは「FEED THE FIRE」で、疾走感あふれるクールなロックサウンドに注目!https://t.co/VrBDq3o0Or#アニメ王様ゲーム pic.twitter.com/Ze95U9gEVY

— アニメ「王様ゲーム」公式 (@kingsgame_pr) 2017年8月10日
---
"King's Game The Animation" main staff:
Director: Noriyoshi Sasaki (Ojisan and Marshmallow)
Series Composition: Kenji Konuta (SERVAMP, Saiyuki Reload Blast)
Character Design: Kan Soramoto, Yosuke Ito (Hybrid x Heart Magias Academy Ataraxia)
Chief Animation Director: Kan Soramoto (Hybrid x Heart Magias Academy Ataraxia)
Music: Nayouki Osada (Da Capo III, Tenkai Knights)
Anime Production: Seven (Soryo to Majiwaru Shikiyoku no Yoru ni...)
Teaser visual
「王様ゲーム The Animation」のティザービジュアルも公開! 今後の展開を表しているかのような歪んだ教室にいる主人公・金沢伸明の姿にご注目ください! https://t.co/gs5Bzg3xky#アニメ王様ゲーム pic.twitter.com/slkC74RGqv

— アニメ「王様ゲーム」公式 (@kingsgame_pr) 2017年8月1日
Source: TV anime "King's Game The Animation" official website, Twitter
© Hitori Renda, Renji Kuriyama, Nobuaki Kanazawa/Futabasha, Everystar/"King's Game" Production Committee