Anime character designer Yoichi Ohnishi newly draws the bookcase cover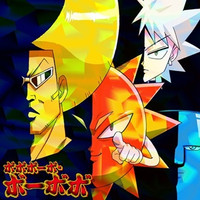 Frontier Works will release a Blu-ray box of the TV anime adaptation of Yoshio Sawai's comedy adventure manga Bobobo-bo Bo-bobo at 33,480 yen (about 294 US dollars) in Japan on April 25, 2018. The manga was originally serialized in Shueisha's Weekly Shonen Jump for two arcs, Bobobo-bo Bo-bobo and Shinsetsu Bobobo-bo Bo-bobo, from 2001 to 2007, and compiled in 28 tankobon volumes.
The TV anime adaptation produced by Toei Animation was aired for 76 episodes from November 2003 to October 2005. Due to its "sensitive" contents, it was selected as one of "the TV shows that parents don't want their kids to watch" twice in 2004 (10th) and 2005 (9th), according to the national surveys conducted by the Japan PTA National Association.
The three-disc "Bobobo-bo Bo-bobo Kanzen Ougi (Perfect Secret Techniques)" Blu-ray box will be
released to commemorate the TV anime's 15th anniversary. All 76 episodes will be digitally remastered
to high-rate SD (480i). The anime character designer Yoichi Ohnishi (Kanon character designer/chief
animation director) newly draws its bookcase cover.
あの伝説的不条理ハジケアニメがBD-BOXになるぞォォォ!!
2018年でアニメ化15周年を迎える「ボボボーボ・ボーボボ」が初BOX化!
全76話をBlu-ray3枚にパッケージ!
コンパクトかつお求めやすい価格の永久保存版!
2018年4月25日発売!価格は31,000円+税! pic.twitter.com/D956LG0J9f

— ボボボーボ・ボーボボBD-BOX公式 (@BO_BOBOBD_BOX) 2017年11月7日
"Bobobo-bo Bo-bobo" manga tankobon 1st and 21st volume covers
Source: "Bobobo-bo Bo-bobo" Blu-ray box official Twitter
©Yoshio Sawai/Shueisha