Applicants can seek part-time job making custom, oversized Sticky Notes to decorate the King Records offices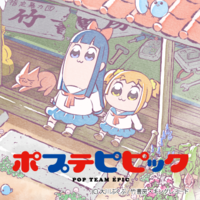 Weird web comic turned equally weird anime Pop Team Epic is keeping the weirdness flowing by looking for a pair of part-time workers who will perform the role of "human-powered copy-pasters" for a one-day gig in December of 2017. The job will pay a 50,000 yen (about $440 US) per diem and will also feature perks such as transportation expenses and an autographed color illustration from Pop Team Epic author Bkub Okawa.
Using a set of special stamps, the "human-powered copy-pasters" will create a total of 100 over-sized Sticky Notes featuring imagery from Pop Team Epic, all the while praying that the anime will be a success. Sounds easy, doesn't it? However, each Sticky Note will have 108 Pop Team Epic stamps on it, for a grand total of 10,800 stamps! This activity corresponds to the ringing of the temple bells on New Year's Day in Japan. The bells chime 108 times to reflect the 108 passions that must be overcome in the practice of Buddhism.
In true trolling fashion, the over-sized Sticky Notes will then be donated to "decorate the interiors of King Records". The application process for the job is open from November 14 - December 01, 2017. The application process is open to Japanese residents of all ages, genders, and levels of experience, although people who "flip the bird" and "quit midway through" are asked to refrain from applying. The application page can be found here.
Based on the surreal 4-panel web comic published in Takeshobo's Manga Life WIN digital magazine, the Pop Team Epic TV anime is directed by Jun Aoki and Aoi Umeki and features animation by Kamikaze Douga. Pop Team Epic hits Japanese airwaves in January of 2018. An English language version of the original manga is also in-production from Vertical, Inc.
Source: Ota-suke
Paul Chapman is the host of The Greatest Movie EVER! Podcast and GME! Anime Fun Time.