Original TV anime about high school girls on a voyage of discovery to Antarctica is currently streaming on Crunchyroll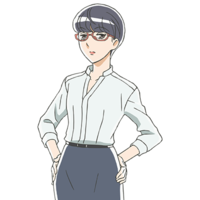 A Place Further Than the Universe is about to embark on its Antarctic adventure, and the original TV anime has announced 6 more voice actors have joined the series as members of the observation and research teams. The new cast members include:
Masaki Terasoma as Chiaki Mukai, the captain of the observation ship. Chiaki previously served in the Self Defense Force, but he accepted his current role at Gin's request. Chiaki was known for being tough when he was younger, but he's mellowed with age, and now everyone respects him for his ability to make decisions in a calm manner.
Yoshitsugu Matsuoka as Toshio Saizen, the communications officer of the observation team. Toshio is good with computers and other mechanical devices, but he's also a hopeless romantic who tends to crush hard on his female colleagues, much to their chagrin.
Jun Fukushima as Dai Hime, a gentle giant who is in charge of construction for the observation team. Dai is physically imposing but very shy. He's a big fan of Yuzuki and he gets along well with Toshio.
Kana Asumi as Nobue Todoroki, a geologist who is accompanying the observation team. Nobue takes her research very seriously, but she had to leave her boyfriend, Yuu-kun, behind in Japan. She spends all her free time composing e-mails to Yuu-kun and knitting things for him.
Aya Endo as Yume Sasaki, an astronomer accompanying the observation team. Yume was also Takako's junior, and she respected Takako very much. Although Yume's expression is severe, she has a soft heart, and will sometimes give advice to Kimari. Yume is always looking toward the skies, as if she's searching for something there.
And Mikako Komatsu as Hanami Yasumoto, a researcher who is accompanying the observation team. Hanami's specialty is microbial biology, but she is still a graduate student and she doesn't have her doctorate yet. Hanami is pretty and popular with men, but she is not interested in romance. She's also fairly immature and gets along well with Kimari and her friends.
A Place Further Than the Universe is directed by Atsuko Ishizuka and features animation by MADHOUSE. The series is currently streaming on Crunchyroll as part of the Winter 2018 simulcast line-up. Crunchyroll describes the story of A Place Further Than the Universe as follows:
Scenery that we have never seen. Sounds that we have never heard. Scent that we have never smelled. Food that we have never tasted. And the surge of emotion that we have never experienced. This is the expedition of recollecting the pieces torn apart and sensation left alone. When we reach that place, what will we think? Howling, 40 degree angle. Raging, 50 degree angle. Shouting, 60 degree angle. A wilderness beyond the heavy sea. The furthest south, far from civilization. At the top of the Earth. We will find lights through the girls' eyes to live tomorrow.
Sources:
Official A Place Further Than the Universe TV anime home page
Paul Chapman is the host of The Greatest Movie EVER! Podcast and GME! Anime Fun Time.