The last 7th show was held on January 21, 2018, her 38th birthday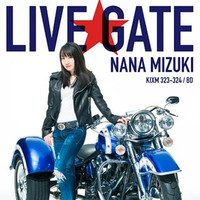 The official YouTube channel for popular anime voice actress/singer Nana Mizuki has started streaming a six-minute digest clip from her upcoming live DVD/Blu-ray "NANA MIZUKI LIVE GATE" to be released on June 20. The discs contains the last day performance of her sold-out solo concert "LIVE GATE" held at the internationally famous sports arena Nippon Budokan for seven days from January 11 to 21, 2018. Coincidentally, the January 21 was her 38th birthday.
"NANA MIZUKI LIVE GATE" digest
15-second CM
Blu-ray jacket
DVD jacket
Song List:
OP MOVIE
"Vitalization
"ROMANCERS' NEO"
"Sacred Force
MC1
"Poison Lily"
"WAKE UP THE SOULS"
"HOT BLOOD"
Cherry Boys SHOWCASE "Ongaku Keiji nanagakari"
"RUSH&DASH!"
MC2
"Fantasm"
"Aoki Hikari no Hate -ULTIMATE MODE-"
team YO-DA SHOWCASE "OPEN THE GATE"
"GLORIA"
"GUILTY"
MC3
"Destiny's Prelude"
"Suiren"
SHORT MOVIE "as key what of you ?"
"Lazy Syndrome" / guest:Takumi Yoshida (phatmans after school)
MC4
SHORT MOVIE "LOVE is my key"
"Shin-ai"
"TESTAMENT"
"Rock Ride Riot"
"STARTING NOW!"
"DISCOTHEQUE"
MC5
"POWER GATE
-ENCORE-
"ETERNAL BLAZE"
"Tenkuo no Canaria"
MC6
"SUPER GENERATION"
"LINE UP"
-W ENCORE-
MC7
"POWER GATE"
ENDING
END ROLL
[SPECIAL GUEST SECTION]
[Day1] "ambivalence" / guest: Shikao Suga
[Day2] "Young Alive!"/ guest: KOHSHI & KEIGO(FLOW)
[Day3] "VIRGIN CODE"/guest: Kishow Taniyama
[Day4] "Eden" / guest: Chiris Hart
[Day5] "Orchestral Fantasia": Shinji Takeda
[Day6] "Synchrogazer" /guest: Shouta Aoi
[Bonus Live]
"TRY AGAIN" (January 11)
"Kindan no Resistance" (January 18)
"UNCHAIN∞WORLD" (January 20)
"Hikari" (Janaury 20)
"Koi no Yokushiryoku" (January 20)
"COSMIC LOVE" (January 20)
"BRAVE PHOENIX" 8January 20)
"NANA MIZUKI LIVE GATE 2018" schedule:
Day 1: January 11/open 17:00 start 18:00
Day 2: January 13/open 16:00 start 17:00
Day 3: January 14/open 16:00 start 17:00
Day 4: January 16/open 17:00 start 18:00
Day 5: January 18/open 17:00 start 18:00
Day 6: January 20/open 16:00 start 17:00
Day 7: January 21/open 16:00 start 17:00
Source: Nana Mizuki official website
copyright © 2018 KING RECORD.CO.,LTD. ALL RIGHTS RESERVED.