Just like a Survey Corps kid in a Titan, we know that the way to your heart is through your stomach. As such, we're celebrating your support of Attack on Titan Season 3 with, you guessed it – FOOD!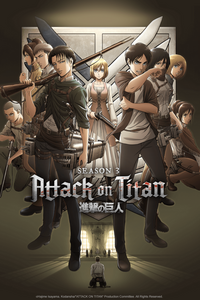 Attack on Titan Season 3 premieres TODAY (July 22nd) on Crunchyroll, and we're celebrating with something we're calling A SNACK ON TITAN!!
It's easy to get hungry after a whole day of holding the titans at bay from the last bastions of humanity, but fear not! For 1,250 aspiring Survey Corps members, we'll be delivering one of three fanstastic options to their doorsteps!! If you're selected, you can either choose Eren's hot wings for the fire blazing inside you, Mikasa's pizza to share with a pal, or Levi's sweets to best savor the moment that season 3 finally arrives.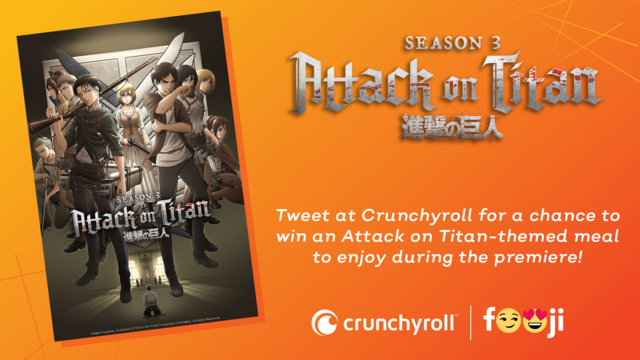 How do you enter?? From 9:30am - 9:30pm Pacific Time, users who tweet to @Crunchyroll using #AttackOnTitan and the pizza emoji will get sent a tweet from Crunchyroll with your PERSONAL link to enter the contest. Click the link and you'll find out INSTANTLY if you've won! We're giving away 1,750 meals today - almost 150 every hour!!!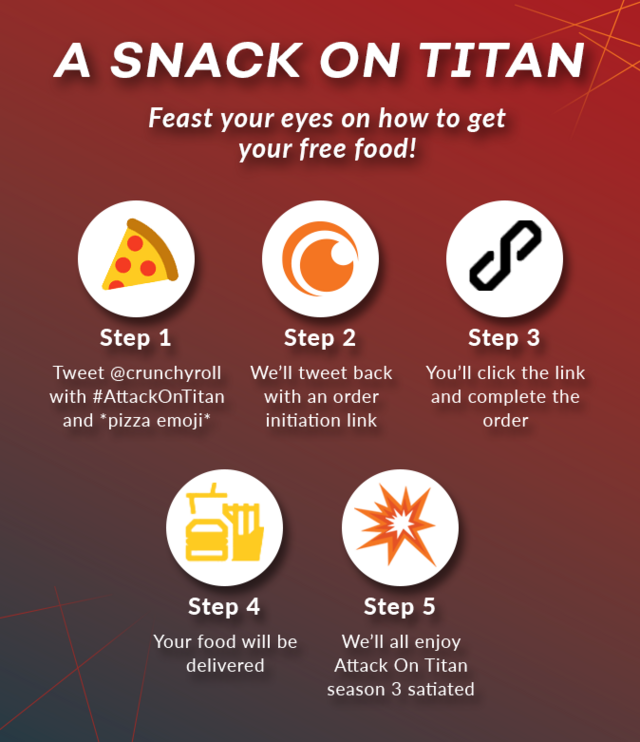 Check out the details on the Fooji website, and for full rules click here!
Please note that this promotion is only available in the United States, due to availability from our partners. We're working hard to make sure that all of our campaigns are available in as many countries as possible, and we sincerely apologize to everyone who wishes to join in on A Snack on Titan but is unable to simply due to their country of origin.