Mamoru Hosoda's "MIRAI" drops to the 7th position in its 3rd weekend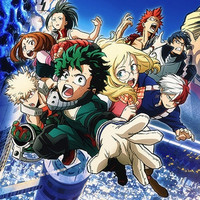 Thanks to the limited bonus book including a newly-drawn manga story "No.0 ALL MIGHT: RISING" by the original author, My Hero Academia The Movie: The Two Heroes, the all-new anime feature film based on Kohei Horikoshi's action shonen manga, earned an impressive 210 million yen on its opening day of August 3 in Japan, then ranked 4th in its opening weekend box office of August 4-5.
The 96-minute film was assumed to have earned around 500-550 million yen in its first three-day run from Friday to Sunday, which was about 75% of that of Boruto: Naruto the Movie in August 2015. Judging from its first weekend gross, My Hero Academia The Movie is expected to end its domestic run with around 2 billion yen.
Sadly, the live-action film adaptation of Tite Kubo's internationally popular shonen action manga Bleach quickly disappeared from the top 10 only in its third weekend of release, after ranking 4th and
5th in its first two weekends. Its actual current box office is unknown, but it can be believed that
it has become one of the biggest box office disasters of this year so far.
Why did it fail? Some critics pointed out the leading actor Souta Fukushi's weak star power. The 25-
year-old actor is best known as Gentaro Kisaragi in the 13th Heisei Kamen Rider series Kamen Rider
Fourze (2011-2012), but has not yet gained the same level of recognition among general audience
as other successful ex-Kamen Rider actors have, such as Joe Odagiri (Kamen Rider Kuuga), Takeru
Sato (Kamen Rider Den-O), and Masaki Suda (Kamen Rider W). His latest starring film released in
March of this year, Donten ni Warau/Laughing Under the Clouds failed to even rank in the box office
top 10.
For most of the general audience, he is still a star of a tokusatsu TV show for children? Or he was
just too old to portray the high school boy protagonist Ichigo Kurosaki? What's your opinion?
---
Weekend box office in Japan (August 4-5, 2018)
(ticket sales basis)
1 (1). "Gekijyo-ban Code Blue ~ Dr Heli Kinkyuu Kyuumei ~"
2 (new). "Mission: Impossible - Fallout"
3 (new). "Incredibles 2"
4 (new). "My Hero Academia The Movie: The Two Heroes"
5 (new). "Kamen Rider Build the Movie: Be the One"
6 (2). "Jurassic World: Fallen Kingdom"
7 (3). "MIRAI"
8 (4). "Pokémon the Movie: Everyone's Story"
9 (new). "Sensei Kunshu"
10 (-). "Kamera wo Tomeruna!" (Don't Stop The Camera!)
"My Hero Academia The Movie: The Two Heroes" Trailer
"No.0 ALL MIGHT: RISING" preview
"Bleach" trailer
Source: Eiga.com
©Kohei Horikoshi, Shueisha/"My Hero Academia The Movie" Production Committee
©Tite Kubo/Shueisha
©2018 "Bleach" Film Partners