Il film di GUNNM esordirà il 14 febbraio in U.S.A.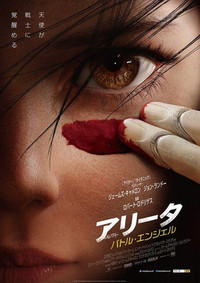 La 20th Century Fox ha pubblicato in streaming un nuovo trailer sottotitolato in giapponese per il suo Alita: Battle Angel, film live-action di James Cameron e Robert Rodriguez, basato sul manga Battle Angel Alita (GUNNM) di Yukito Kishiro. Il video mostra i ricordi della guerra di Alita e alcune scene di Motorball.
Il film esordirà negli Stati Uniti il 14 febbraio 2019 dopo essere stato posticipato ben due volte. L'uscita in Giappone avverrà il 22 febbraio.
Nel film l'attrice protagonista sarà Rosa Salazar (Maze Runner: The Scorch Trials, The Divergent Series: Insurgent, Man Seeking Woman) nel ruolo di Alita. Altri attori sono:
Christoph Waltz (Inglourious Basterds, Django Unchained, Spectre, The Legend of Tarzan) nel ruolo di Doctor Dyson Ido, "il cyberchirurgo che trova la cyborg protagonista e diviene il suo mentore".
Jackie Earle Haley (Watchmen, A Nightmare on Elm Street remake, Preacher, The Dark Tower, The Birth of a Nation) nel ruolo di "un mostruoso cyborg malvagio per cui è servita tanta CGI e schermo verde"
Ed Skrein (The Transporter Refueled, Deadpool) nel ruolo di Zapan, "un cyborg malvagio in possesso di un'arma chiamata spada di damasco"
Keean Johnson (Nashville, Spooksville) nel ruolo di Hugo, l'"l'affare di cuore" e "un giovane uomo che insegna ad Alita a giocare a un gioco stile gladiori chiamato Motorball, ma che ha un lavoro secondario da ladro di parti robotiche"
Elza González (From Dusk Till Dawn: The Series)
Jorge Lendeborg Jr. (Spider-Man: Homecoming,The Land) nel ruolo di "lo scaltro e astuto amico" del personaggio di Keean Johnson.
Lana Condor (X-Men: Apocalypse) nel ruolo di Koyomi, un fotografo orfano del manga.
Leonard Wu (Marco Polo) nel ruolo di Kinuba, un cyborg del manga.
Marko Zaror (Machete Kills) nel ruolo di Ajakutty, un giocatore di Motorball che appare nel manga.
Jennifer Connelly (American Pastoral, Hulk, Dark Water) nel ruolo di uno dei cattivi ddel manga.
Michelle Rodriguez (Fast and the Furious) nel ruolo di Gelda.
Mahershala Ali (Moonlight, Hidden Figures) nel ruolo di due parti non specificate
Così The Hollywood Reporter descrive il film:
Ambientato nel 26° secolo, Alita: Battle Angel racconta la storia di una ragazza cyborg che viene trovata nella discarica da uno scienziato. Senza ricordi, a parte il suo addestramento nelle arti marziali, la donna diventa una cacciatrice di taglie che dà la caccia ai criminali.
Questa storia di azione e avventura è intesa come sfondo per il tema della scoperta di sé e dell'amore.
Robert Rodriguez (El Mariachi, Once Upon a Time in Mexico, Sin City, Spy Kids) dirige il film. James Cameron e la sua Lightstorm Entertainment, insieme a Jon Landau, producono il progetto e la Laeta Kalogridis di Shutter Island ha scritto la sceneggiatura.
In un'intervista con Entertainment Weekly, Rodriguez ha detto che è una storia autoconclusiva che però può dare adito ad altre opere. Cameron ha originariamente pianificato una trilogia di film.
Fonti: canale YouTube della 20th Century Fox, Comic Natalie
Notizia originale di Rafael Antonio Pineda su AnimeNewsNetwork