The 12th PreCure crossover film will open in Japan on March 16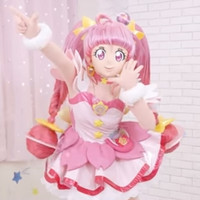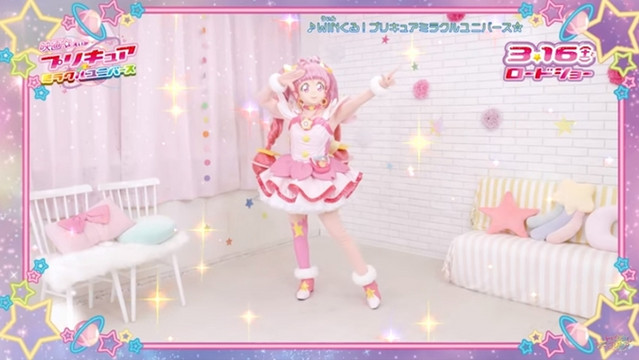 The official YouTube channel for Toei Animation's PreCure franchise has started streaming a six-minute
dance lesson video for "WINkuru! PreCure Miracle Universe☆," the ED theme song for the franchise's
next 26th feature film PreCure Miracle Universe, lectured by Cure Star from the ongoing 16th TV series
Star☆Twinkle PreCure. The song is sung by Rie Kitagawa, who also sings the OP theme for Star☆Twinkle,
and its CD single is set to be released on March 13, 2019.
First, Cure Star shows her dance for the song's first verse, then she teaches the choreography for its "cheer
dance" part step by step. In the end of the clip, she says, "Please practice many times, Let's dance together
in theater! I will be waiting for you in theater!"
【映画EDダンスレッスンムービー公開✨】
「スター☆トゥインクルプリキュア」のキュアスターが
本作のエンディングダンスを舞い踊る????

さらに応援ダンスパートの振付をレクチャー❤️

映画の公開までたっくさん練習してね????
レッスンムービーはこちら↓https://t.co/XifHQoR6hx#映画プリキュア

— 映画プリキュアミラクルユニバース (@precure_movie) 2019年2月10日
The 12th PreCure crossover film PreCure Miracle Universe is directed by Yukio Kaizawa (Kirakira PreCure
a la Mode co-series director) and is set to be released in Japan on March 16, 2019. Its story follows the
space adventure to seek out the secret of Miracle Light by the three teams from the recent TV series:
the 14th series Kirakira PreCure a la Mode (2017–2018), the 15th series Hugtto! PreCure (2018-2019),
and the 16th series Star☆Twinkle PreCure (2019-).
Full trailer
Poster visual
✨ポスタービジュアル解禁!✨
「スター☆トゥイクルプリキュア」「HUGっと!プリキュア」「キラキラ☆プリキュアアラモード」のみんなが宇宙で大活躍!!

後ろにはなんとミラクルライトの工場が!?
新たなステージで活躍するプリキュアにご期待ください!#映画プリキュア #precure #スタプリ pic.twitter.com/9cWkBBPkrL

— 映画プリキュアミラクルユニバース (@precure_movie) 2018年12月27日
---
Source: "PreCure" official YouTube channel
©2019 Movie PreCure Miracle Universe Production Committee