Takumi Kitamura, Touri Matsuzaka, Minami Hamabe voice the main characters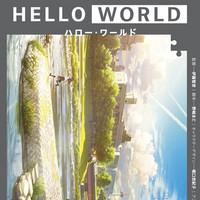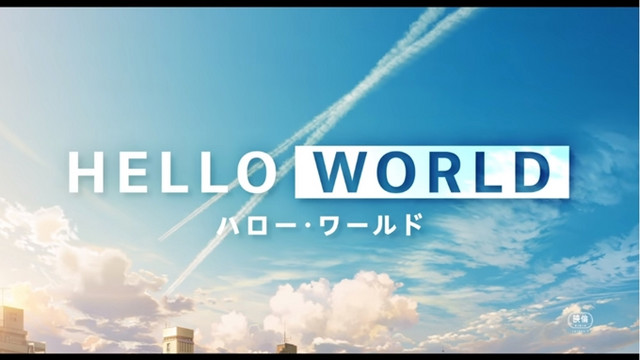 The official website and Twitter for Sword Art Online director Tomohiko Ito's forthcoming original anime
film HELLO WORLD open today with a 30-second first teaser trailer introducing its world visuals, and
announced it is set to be released in Japan on September 20, 2019.
This is his second feature film work following Sword Art Online The Movie: Ordinal Scale in 2017. Mado
Nozaki (KADO: The Right Answer) provides a screenplay, Yukiko Horiguchi (Lucky Star, K-ON!) designs
the characters. Graphinica (Expelled from Paradise, Juni Taisen: Zodiac War) works on anime production.
---
20:02 on July 3, 2027.
If I can redo that time.
If you were still in this world.
The one whom I joined hands together with to save your future was,
"Who on earth are you?"
Myself in the future.
Even if the world is destroyed,
I want to see you one more time.
"This fall, Japanese animation will accelerate"
交錯する未来と現在、<僕>と<俺>と<彼女>

オリジナル長編アニメーション
『HELLO WORLD』https://t.co/Spw9Xv0pYa
2019.9.20(FRI) ROADSHOW#ハローワールド #北村匠海 #松坂桃李 #浜辺美波 pic.twitter.com/dn8LnyVLnu

— 映画『HELLO WORLD』 (@helloworld0920) 2019年4月10日
---
In addition, the voice cast for its three main characters are announced:
Naomi Katagaki (in Chinese characters): Takumi Kitamura (21/"Me" in I Want to Eat Your Pancreas live-action film)
Naomi Katagaki (in katakana): Touri Matsuzaka (30/Takeru Shiba/Shinken Red in Samurai Sentai Shinkenger)
Ruri Ichigyo: Minami Hamabe (18/Yumeko Jabami in Kakegurui live-action drama)
According to director Ito, the three main cast's voice recording session was already done using the
"pre-scoring" method, where character voices are recorded before they are animated. The most famous
anime film using that method is Katsuhiro Otomo's AKIRA in 1988.
■伊藤智彦監督

プレスコと呼ばれる手法で先にセリフは収録されており、
彼らの芝居に合わせて日々カットが出来上がっています。
海外のアニメ映画に負けないような作り方でキャラクターに命が吹き込まれていっています。

コメント全文は公式サイトにてhttps://t.co/Spw9Xv0pYa#ハローワールド pic.twitter.com/DpLKoXlhdb

— 映画『HELLO WORLD』 (@helloworld0920) 2019年4月10日
---
Source: "HELLO WORLD" official website / Twitter
©2019 "HELLO WORLD" Production Committee