Yoshitsugu Matsuoka and Tomori Kusunoki reprise their roles from the novel PV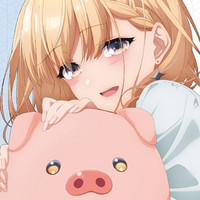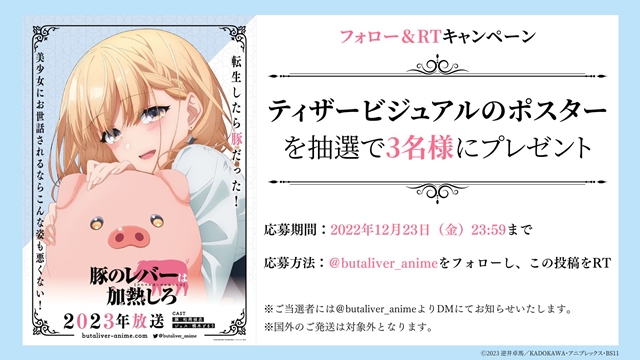 The official website for the forthcoming TV anime adaptation of Takuma Sakai's isekai fantasy light novel Heat the Pig Liver posted a teaser visual featuring its protagonist Pig and main heroine Jess Yesma today, and also announced that it is set to premiere in 2023.
RELATED: Hero Lives High on the Hog in "Heat the pig liver" TV Anime
Teaser visual: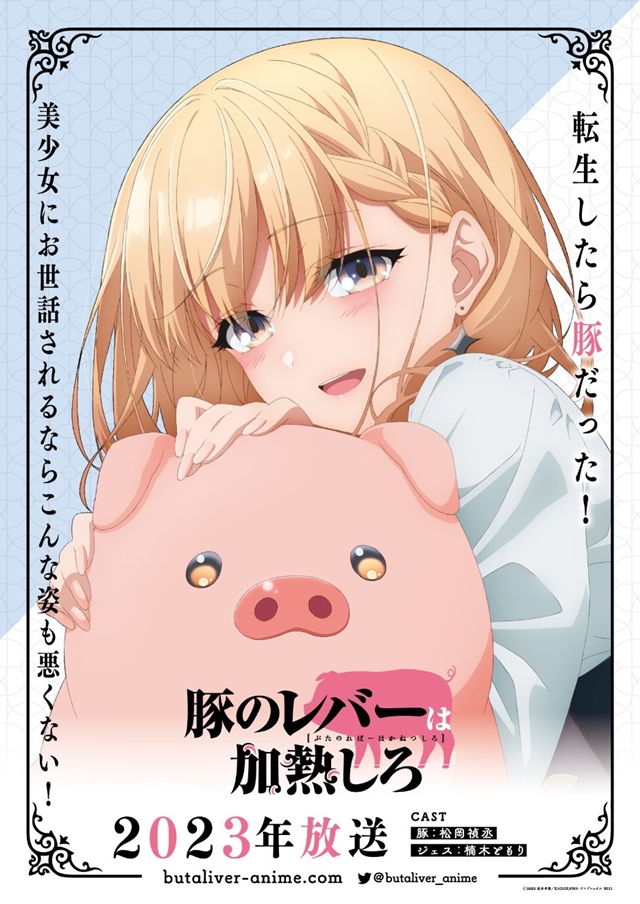 ✦ ••┈┈┈┈┈┈┈┈•• ✦
    TVアニメ
「豚のレバーは加熱しろ」
2023年放送決定????
✦ ••┈┈┈┈┈┈┈┈•• ✦

転生したら豚だった!
美少女にお世話されるならこんな姿も悪くない!

■豚役 : #松岡禎丞
■ジェス役 : #楠木ともりhttps://t.co/pTh20kojYW#豚レバ pic.twitter.com/3Xm4R9TlKl

— TVアニメ「豚のレバーは加熱しろ」 (@butaliver_anime) December 9, 2022
And it is also confirmed that Yoshitsugu Matsuoka and Tomori Kusunoki will reprise their roles as Pig and Jess Yesma from the novel's PV posted in March 2020.
Matsuoka says, "Some parts are funny all the way through, and some are insanely serious. If this is the first time you've heard of this work, please take a look at the PV we did before! I'm looking forward to playing the role! I will do my best to provide you with a touching story!"
And Kusunoki adds, "I first played the role of Jess in the novel's PV, and I am honored to be able to play the role in the TV anime as well! I'm excited by the strange and fresh setting in which a pig is the main character, and I'm also thrilled by Jess's unique (?) lines at the same time. I will do my best to make sure that everyone enjoys the show."
Novel PV:
꒰ঌ キャスト໒꒱

原作PVに引き続き、豚役 : #松岡禎丞、ジェス役 : #楠木ともり が担当いたします✨

お二人よりそれぞれコメントをいただいております????https://t.co/pTh20kFn0W#豚レバ pic.twitter.com/lVHEcwMyHb

— TVアニメ「豚のレバーは加熱しろ」 (@butaliver_anime) December 9, 2022
꒰ঌポスタープレゼント໒꒱

ティザービジュアルのポスターを
抽選で3名様にプレゼント????

■応募方法 @butaliver_anime
をフォローし、この投稿をRT

■応募期間
2022年12月23日(金)23:59まで

TVアニメ「豚のレバーは加熱しろ」は
2023年放送????https://t.co/pTh20kFn0W#豚レバ pic.twitter.com/L4mfXigp0d

— TVアニメ「豚のレバーは加熱しろ」 (@butaliver_anime) December 9, 2022
---
Source: "Heat the Pig Liver" TV anime official website / Twitter
©2023 Takima Sakai/KADOKAWA・Aniplex・BS11