Hi everyone,
As you may have noticed, we recently rolled out our new HTML5 video player to 50% of Crunchyroll users on web. Many of you who have tried out the new player have given us incredibly valuable feedback, and we've been listening! As we ramp up to introduce the player to more and more people, we have been working hard on improving and incorporating new and improved features to the HTML5 player. The following updates are coming soon:
* Volume settings will stay the same when switching between episodes.
* Fullscreen mode will exit when switching between episodes.
* Subtitles will not show up stacked one on top of the other.
* Subtitles will be displayed when casting from the Chrome browser.
We are also working on a Subtitle Selector. This feature will allow users to select and switch between subtitles in the language of their choice, and it will also allow users to turn off subtitles entirely. For now, if you want to change the subtitles, here's how:
Under the video player, located beneath the video description, there are options to change the subtitle language.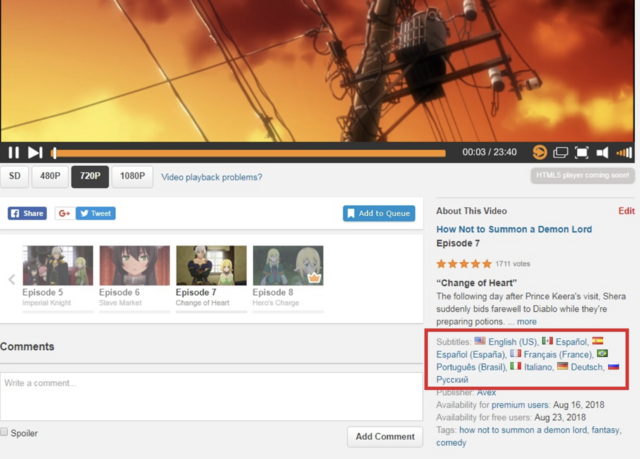 If you have the new video player and wish to switch back to the old version, you will need to go to your browser's settings/tools option and clear your cookies, then refresh the site. There is a 50% chance the page will load with the old player. If it does not, simply repeat this process until the desired player is loaded.
We're dedicated to continuous improvement of our product and we wouldn't be able to make these improvements without the invaluable feedback we get from our users and fans--
so please keep letting us know what you would like to see in our video player
!