Featuring the character panels and life-size statues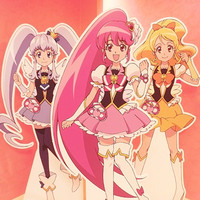 As I reported three times back in August 2011 (featuring 2011-2012 TV series Suite PreCure♪), February 2012 (2012-2013 series Smile PreCure!), and August 2013 (2013-2014 series Dokidoki! PreCure!), PreCure Pretty Store, the first permanent official store dedicated to Toei Animation's long-running anime series PreCure/Pretty Cure, has been open since July 2011 at the Tokyo Character Street next to the Tokyo JR railway hub. While it has become the fans' must-go place, it is rather too small comparing with other popular stores in the section such as Jump Shop (Shonen Jump-themed merchandise) or Donguri Garden (Studio Ghibli).
Luckily for the fans, in February 2014 at the same time with the premiere of the newest TV series HappinessCharge PreCure!, the second PreCure Pretty Store opened in Umeda Hankyu Sanbangai in Osaka-city. It is at least five times larger than the Tokyo one, so you can say it is the largest in Japan.
You can literally find all of the goods related to the on-going series, including stationery, DVD/Blu-ray, books,
and the latest arcade game prizes. It even carries some items from the older series (I found Heartcatch
PreCure and Suite PreCure♪ goods), which the Tokyo store usually doesn't. Not only that, the Osaka store
also displays the character panels of all of the girls and the life-size statues of the protagonists. Check
the photo report below and please visit the store someday.
*all of the photos were taken by the writer Mikikazu Komatsu with the store's permission
PreCure Pretty Store in Osaka

Character panels of the successive girls
Life-size statues
Cure Black (Futari wa PreCure Max Heart)
Cure Bloom (Futari wa PreCure Splash Star)
Cure Dream (Yes! PreCure 5)
Cure Peach (Fresh PreCure!)
Cure Melody (Suite PreCure♪)
Cure Blossom (Heartcatch PreCure!)
Cure Happy (Smile PreCure!)
Cure Heart (Dokidoki! PreCure)
Cure Lovely Mosaic art made of myriad anime scenes
HappinessCharge PreCure! character panels with the monitor playing the trailer for the upcoming film
The wall introducing the past series
Character references for the ongoing series HappinessCharge PreCure!
Arcade game prizes
Illustration by the manga adaptation artist Futago Kamikita
DVD/Blu-ray, books, PreCode dolls
Dakimakura/Hug pillows
Bags, pouches
Toothbrushes, adhesive plasters, pocket tissues
Towels, handkerchiefs
Stationery
Stickers, notebooks
"Cure! Financier"
Service counter