In honor of the royal union, let's take a look at the best weddings in anime!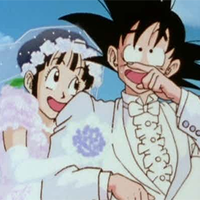 Weddings are a magical event, where two people who love each other come together to celebrate their love and tie the knot! Of course, a royal wedding takes the cake when it comes to the pomp, circumstance, and that special magical feeling in the air. It's hard to ignore the pageantry of the dresses, decorations, the ring, and the ceremony! Even for non-royalty, weddings occupy a special place for many people as a celebration of love and union.
In honor of the royal union, we've compiled a list of top 10 amazing and memorable anime wedding couples! So, without further ado, let's take a look at these happy couples and their nuptials!
10. Lupin III and Rebecca Rossellini (Lupin III Part 4)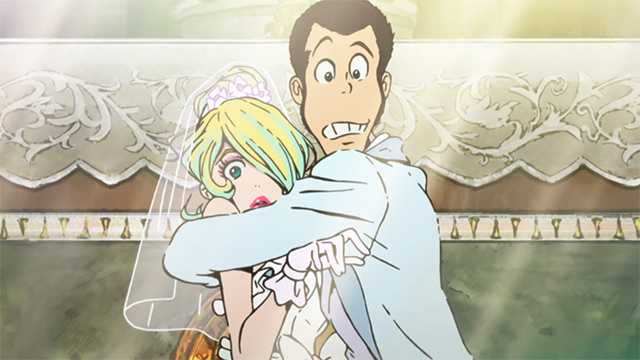 This unique couple certainly threw anime fans for a loop when Lupin III Part IV originally aired. Their madcap relationship throughout the rest of the series was quite the thrill ride, but nothing beats the initial chapter featuring their wedding ceremony. In true Lupin fashion, the wedding is seemingly part of a larger grift, but who is grifting who (and who has feelings for who) remains part of the mystery and intrigue of this partnership. While other couples could certainly claim to only be in it for love, Rebecca and Lupin never did sign any divorce papers…
9. Arsène Lupin and Cardia Beckford (Code: Realize ~Guardian of Rebirth~)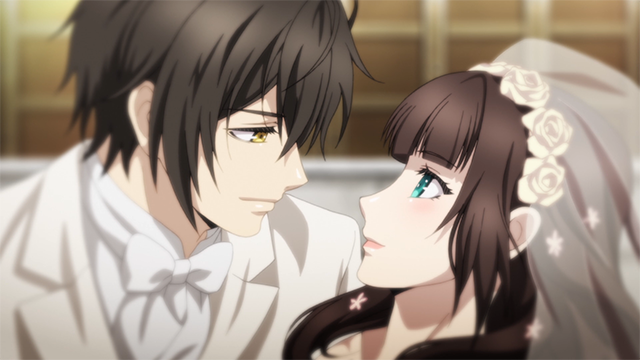 Based on the otome game of the same name, Code: Realize ~Guardian of Rebirth~ shows why Lupin is the poster boy for the series! Upon their first meeting, Lupin Arsene declared to Cardia Beckford "I have come to steal your heart," and that he did! After such a bold declaration, both Cardia and Lupin not only grew closer, but they grew to trust themselves and each other as they successfully navigated deadly situations together. Even though Cardia's nature was revealed, Lupin's heart was set; he kept on loving her no matter what, making sure to keep on his promise to steal her heart. Some questions remained, like how was Cardia able to survive when the Horologium's energy ran out, or what would be the fate of the country. But even with those questions, one answer remained: Lupin and Cardia would create their own new world together.
8. Utena Tenjou and Anthy Himemiya (Revolutionary Girl Utena)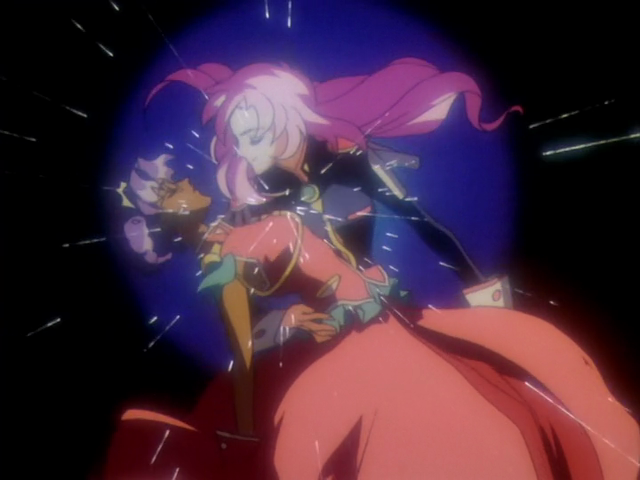 It's hard to compete with a royal bride, but the Rose Bride comes pretty close! Utena and Anthy's relationship certainly seems to come out of a fairytale filled with castles, princes, duels, and even tie-wearing monkeys, but the relationship between the Rose Bride and her defender truly take the cake. Although we aren't treated to an official wedding ceremony like one might normally expect, the two are an iconic duo in their memorable official gear, and the iconography and displays that surround the two of them are certainly hard to beat!
7. Yusuke Yoshihino and Kouko Ibuki (CLANNAD)
This addition to the list might seem strange at first, since neither of these characters are part of the main CLANNAD cast, but it's the situation that surrounds their wedding that makes it truly touching and unforgettable. Series favorite Fuko has spent her time trying to desperately get people to go her sister's wedding, and the circumstances behind Fuko's attempts really tug at the heart strings of the viewers when revealed. The worst part is that it seems that due to Fuko's circumstances, her sister cannot see or hear her, making the little sister's mission to make her sister's wedding a success even more important! This all leads to a touching and rewarding moment where Kouko and Fuko are finally able to speak during the wedding ceremony.
6. Hideki Hinata and Yui (Angel Beats)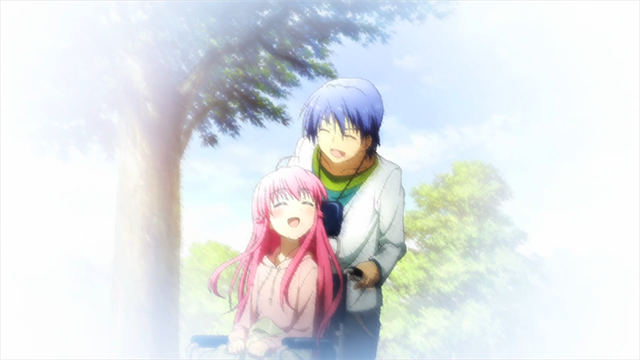 Yup, that's right, another Key title on the list. But can you blame me? The way Key writes their stories really tug at the heartstrings, and Angel Beats in no exception! While Hinata and Yui didn't get a wedding ceremony, Hinata's passionate declaration to marry Yui took fans by surprise. Yui was paralyzed by a car accident, leaving her completely bedridden and reliant on her mom for any care. She was so convinced that no one would marry her if she were in that condition, but Hinata swore that no matter where they met and no matter what handicap she had, he would love and marry her. They both talk out how their meeting would happen in the real world and how they'd fall in love and even how relieve her mother's duty of taking care of her. Having fulfilled Yui's regrets with his marriage proposal, she finally moves on...
5. Goku and Chichi (Dragon Ball)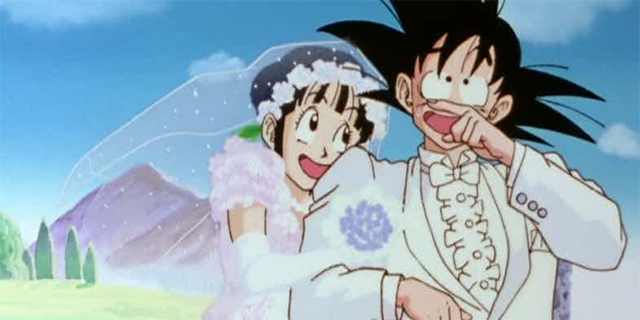 Goku may not seem like the most romantic sort at first, and to be honest, he really isn't! But the wedding between Chichi and Goku cap off the adventure of Dragon Ball, where viewers had followed Goku's adventures from childhood all the way to adulthood. Along that way we saw Goku and Chichi meet and fall in love, and the two were side by side through most of the series, finally coming together once the evil of King Piccolo was defeated! Chichi and Goku finally tie the knot in the final episode in a simple but cute ceremony, and Chichi looks amazing in her white wedding dress! With the Earth saved (for the time being), it was nice to see Goku and Chichi get to make things official and ride off into the sunset… until Dragon Ball Z, anyway!
4. Naruto Uzumaki and Hinata Hyūga (Naruto: Shippuden)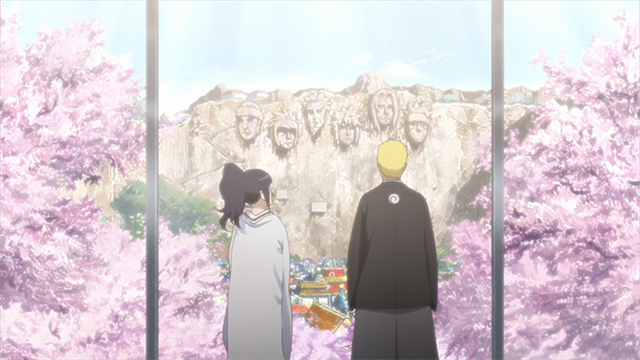 Of course, we couldn't forget Naruto and Hinata's wedding! Both Naruto and Hinata have been on a grand journey from when they were kids, to teenagers and finally, to adulthood. Going through everything from chunin exams to rescue missions and many more dangerous feats, they've not only grown as ninja, but into lifelong partners. As the series started to wind down and the characters all progressed into adulthood, fans were curious to see who Naruto might end up with in the end, and he and Hinata make a perfect couple. Looking on at the Hokage Rock, Naruto and Hinata seem to have been reflecting on their journey that led them to where they now stood. From then on, it'll be a whole new journey that'll bring them blessings in ways they didn't expect!
3. Professor Burnet and Professor Kukui (Pokemon: Sun and Moon)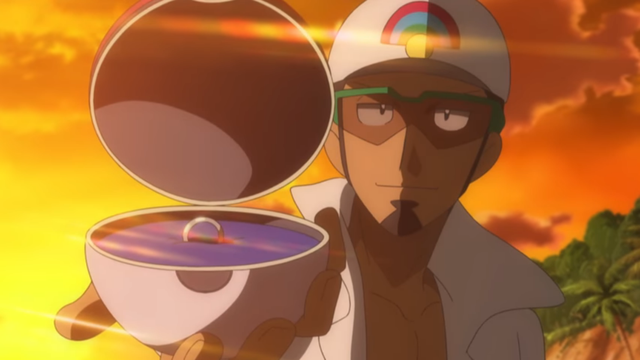 When it comes to surprise anime weddings, the proposal and marriage of Professors Burnet and Kukui certainly caught many viewers by surprise in the anime adaptation of Pokemon Sun and Moon! One of the more interesting episodes, this slice of life story took the focus off of Ash and company and gave us some insight into characters that surround them. After their adventures together, Professor Kukui proposes to Burnet on a sunset walk on the beach, and the ring box? A Pokeball of course! The proposal scene itself is quite iconic, with all of the major pieces you'd like to see in a classic proposal, but the two are later surprised by a fantastic wedding ceremony thrown by Ash and the gang, including some Pokemon helpers! And as the wedding comes to an end, hearing Burnet say "I choose you," is a fitting and sweet way to top off the event!
2. Simon and Nia (Gurren Lagann)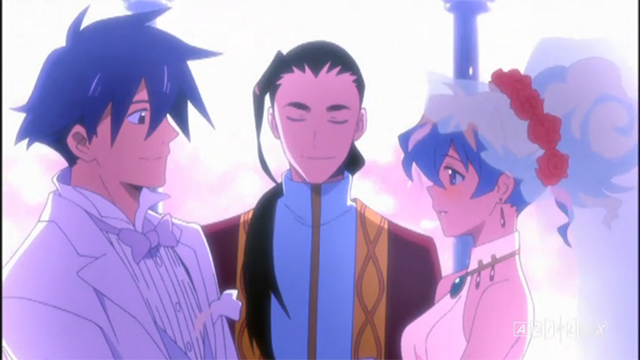 Now, when it comes to weddings in anime, I truly had a hard time deciding on the top 2 spots! I think quite a few people would agree this one might deserve to be in the top spot, and I don't blame you! But for now, let's just say that Simon and Nia's wedding is one of the best moments in the entire series, and maybe even in modern anime! For an anime as over the top as Gurren Lagann, one would be forgiven for expecting a lavish and outrageous wedding ceremony, but instead, the wedding of Simon and Nia is a touching and quiet moment, which is part of what made it so special. Watching Simon grow from a scared and confused kid into a dashing and commanding man wouldn't have been possible without the love and support he got from Nia. Their wedding comes after a battle with great cost, however, and although their marriage is bittersweet, seeing the two united together was one of the most touching and heartfelt moments in the entire series.
1. Yusaku Godai and Kyoko Otonashi (Maison Ikkoku)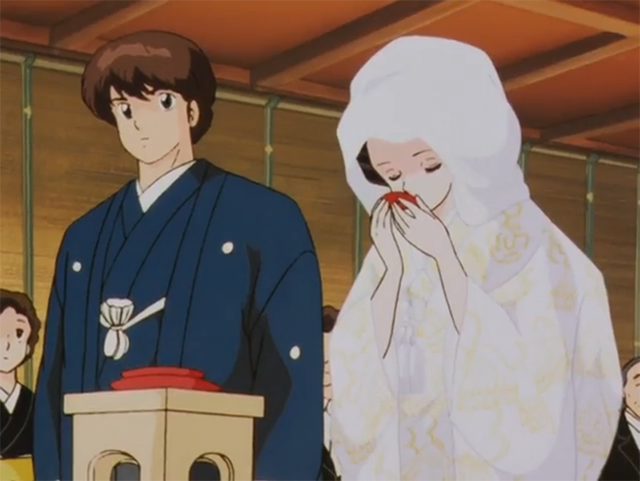 And here at number 1 we have Yusaku and Kyoko! Perhaps one of the most classic "will they / won't they" romantic comedy couples in anime, Yusaku and Kyoko drove fans of both the anime and manga crazy as Rumiko Takahashi tortured us with constant teasing, advancements, and setbacks in their burgeoning relationship. Yusaku was always committing at the wrong time and place, letting his anxieties get the better of him, while Kyoko kept fluctuating over whether or not to remarry after her husband's death, or if some other suitors were perhaps better matches than Yusaku. The wacky cast certainly didn't help, always butting in and interrupting the two lovebirds. So when the wedding finally happened, fans were able to cheer with joy and relief that the two had finally made the jump together! After nearly 100 episodes, the two are united in the finale, with a touching declaration of love that's hard to beat, and the fast-forward time skip at the end really helps wrap up that these two belong together, and that Maison Ikkoku is not just their home, but a major reason for their love.
Are there any wedding bells that you think deserved to ring on this list? Let us know in the comments!
----
Nicole is a features and a social video script writer for Crunchyroll. Known to profess her love of otome games over at her blog, Figuratively Speaking. When she has the time, she also streams some games. Follow her on Twitter: @ellyberries