Does the UK's first Pokémon store meet its Dynamax sized expectations?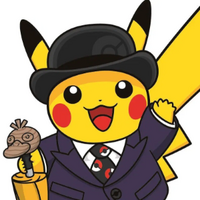 Being a Pokémon fan in the United Kingdom hasn't always been easy. I've spent years watching with envy and emptying my wallet with shipping and customs fees to import the wonders that grace the U.S. and Japan while putting our slim pickings to shame. As someone whose life revolves this monster collecting franchise, it's always been my ultimate dream to visit a Pokémon Center store—but one out of my reach, due to the sheer cost of flying to Asia. With Pokémon Sword and Shield putting my country on the series' world map with the Galar region however, a part of my dream was delivered to my doorstep, so while it still feels surreal to write this, here's my guide to Pokémon Center London!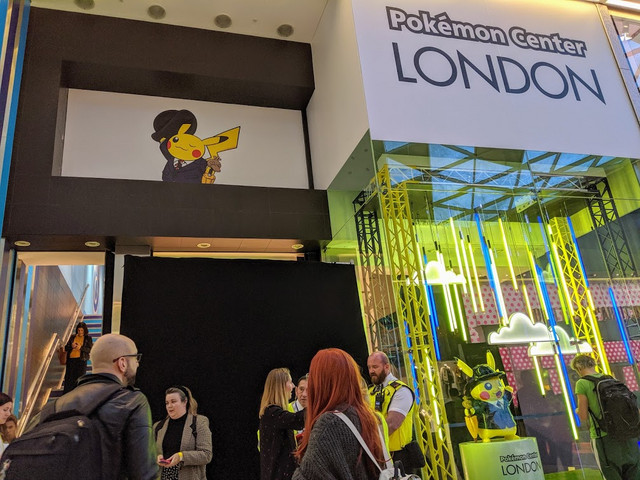 Open from October 18 until the new games' worldwide launch on November 15 2019, this unbelievable treasure can be found tightly tucked into the first floor of London's intimidatingly huge Westfield shopping mall (about a 25 minute tube trip from King's Cross). After navigating the maze of designer brands, the Pokémon Center is unmissable, because of the cheery, suit-wearing Pikachu waving you in!
I was giddy with excitement before going on, but honestly didn't know what to expect when I first walked into the store. The first thing I saw was an open space flanked on the right by an ominous warning to my bank balance: the checkouts! To the left, however, was the more pacifying sight of plushies—lots of plushies! The Kanto starters, the vast Eevee family tree, and other popular Pokémon like Gengar were primed for being stuffed into shopping baskets, as were large and incredibly cuddly-looking plushies of Mimikyu, Ditto, and an absolute unit of a Wailord, which I regret not buying despite its near £50 ($65 approx) price tag!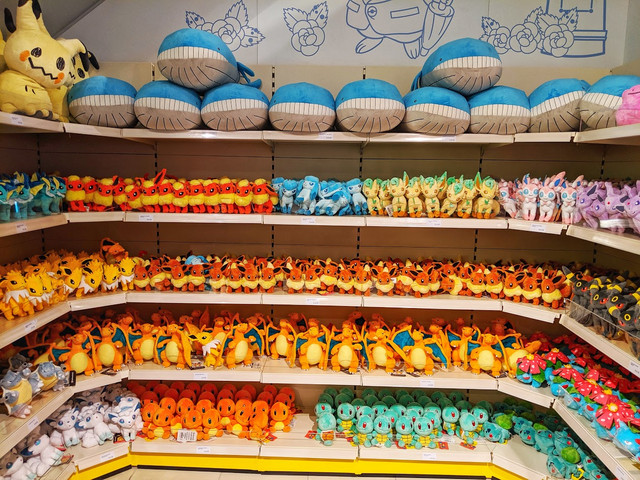 With Sword and Shield being the reason for the store in the first place, I wasn't surprised to see some Nintendo Switch love, but did items widely available elsewhere really need almost an entire section? Advance stock of the Zacian and Zamazenta Lite would've gone down a treat, but alas, that releases only a month before the store closes. I was really tempted by the new purple and orange Joy-Con though, but decided to save my money for the real pièce de résistance: exclusive merch!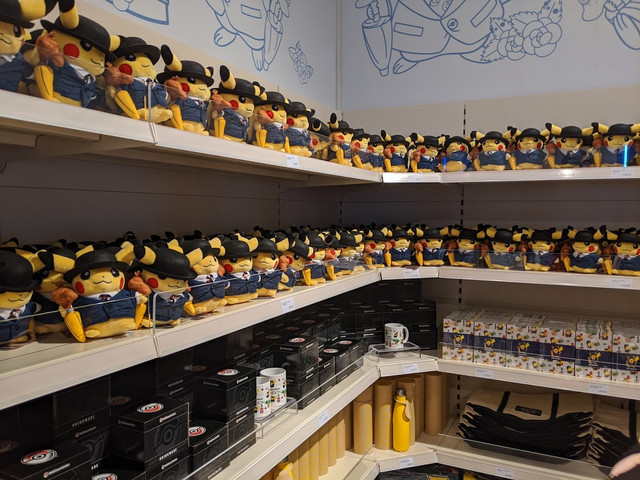 Just look at all the dapperly dressed Pikachu! The electric Londoner's pinchable face also adorned quintessentially British items like mugs (perfect for a cuppa) and umbrellas (honestly the best bit of the range—we "love" the weather!) filled the rest of the section, alongside other bits like badges, tote bags, and even a snuggly fleece throw. As a competitive Trading Card Game player, I need to give a shout-out to that gorgeous playmat that I'll no doubt rocking at tournaments to come. All items in this range are strictly one per person though, so you won't be able to pick up duplicates for a friend (or online auction sites… yeah).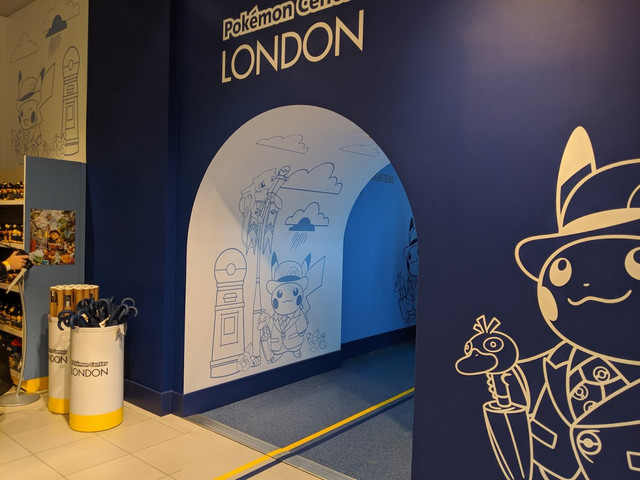 After journeying to Galar, you'll no doubt want to see its native Pokémon! Lurking on the other side of the store's short dividing tunnel and a small selection of Pokémon: Detective Pikachu goodies, including a beautifully creepy Ludicolo plush (that I regret not picking up) and Psyduck with oddly reflective beaks, you'll find our soon-to-be partner Pokémon: Grookey, Scorbunny and Sobble!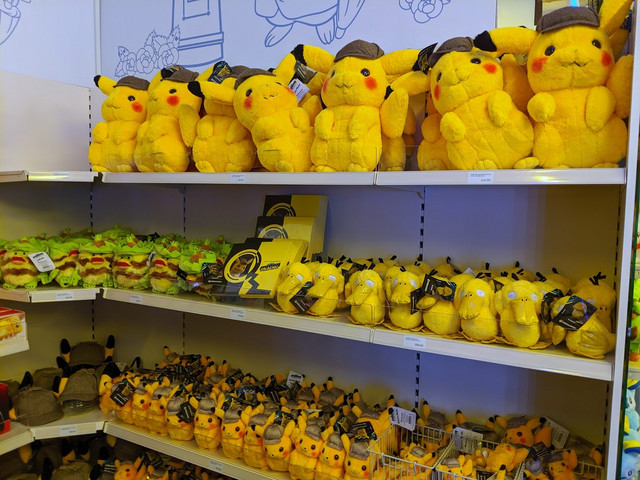 If you haven't decided on your Sword and Shield starter yet, forget waiting for evolutions—here's where you decide. I've been Team Grookey since Day 1, so snapped up a comfy varsity jacket, a mug, and a plush. Now that I'll be showing off the funky monkey whenever I leave the house, I can't wait for it to disappoint me in the same way Primarina did (it's not bad, but compared to Decidueye or Incineroar?). They were unfortunately the only Galarian Pokémon on show though, with no big fluffy Wooloo to be seen.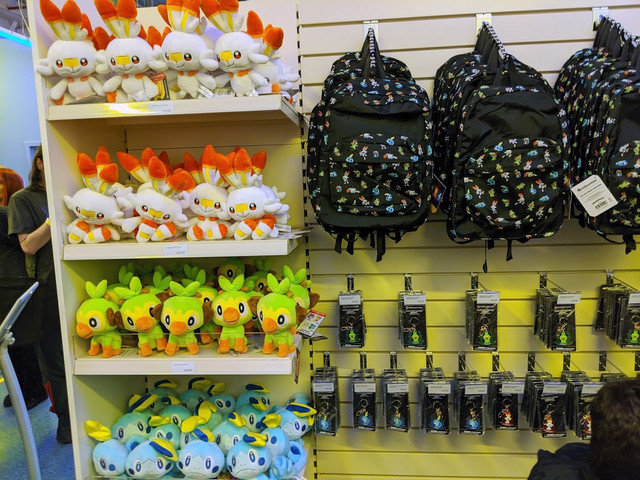 I'd say my only real disappointment with Pokémon Center London, is its throwaway treatment of my favorite merch line: "Sitting Cuties". With every Generation 1 and 2 Pokémon receiving a plush, I was overjoyed that my underappreciated faves like Primeape and Donphan were finally getting some love. After seeing photos of them all lined up in Japanese Pokémon Centers, I was expecting something similar here. But we didn't get that.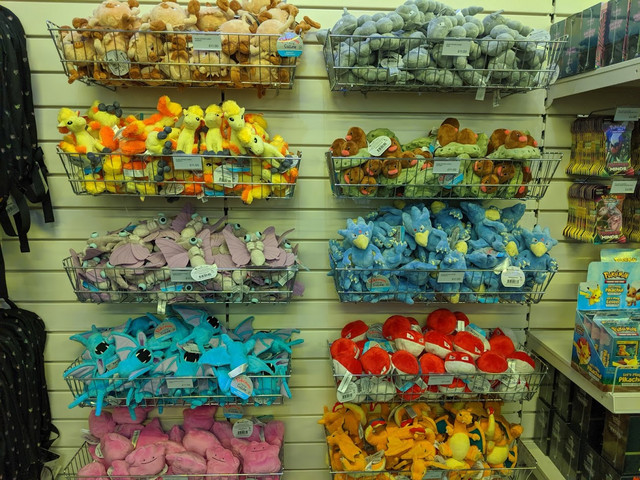 The only Sitting Cuties to be found were in small baskets in a far back corner, with the 12 Pokémon available (not pictured: Wartortle and Gloom) being so random that I wonder if they're simply what the warehouses had left over (should Kantonian Ponyta be considered a rare import though?). My adoration of Johto's forgotten darling Janine meant I couldn't resist the bug-eyed Venomoth though, and at £11 ($14.28 approx), they're the cheapest plushies in the store.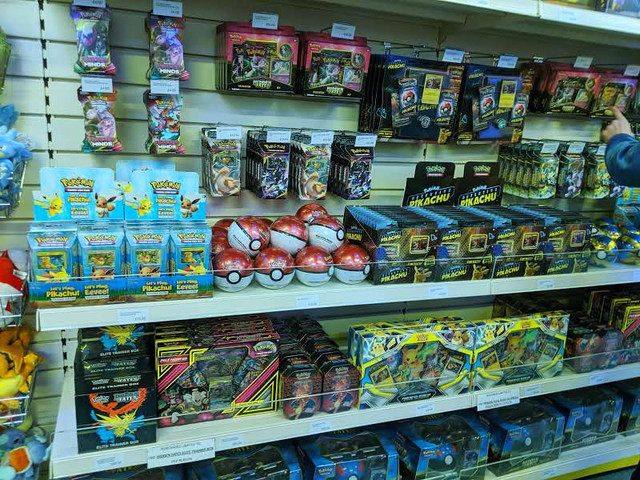 Trading Card Game players may want to focus their attention further down the wall though, with a large collection of boosters, decks, accessories and more. Eagled-eyed collectors may even notice that the Pikachu-GX and Eevee-GX Special Collectionhas two boosters of the Cosmic Eclipse set ahead of its 1st November release! After one last push for London themed apparel though, that's it for the shopping part of Pokémon Center London!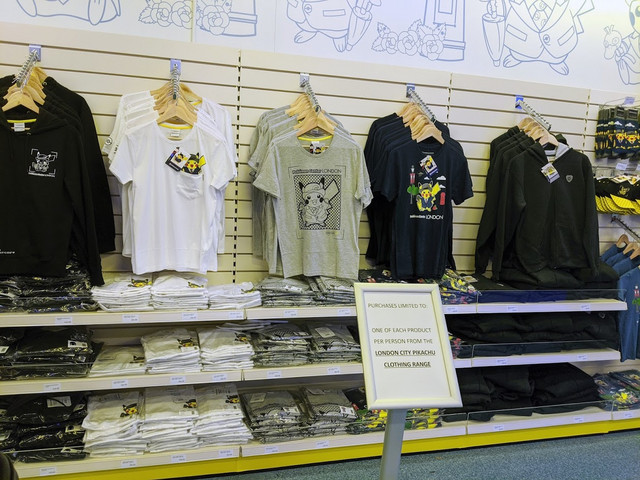 Once your wallet is done crying at the checkout though, you may remember a flight of stairs near the entrance. The second floor of Pokémon Center London is packed with demos of Sword and Shield both docked on televisions, and on bolted down Switch Lites.
The same experience seen at E3 earlier this year, I had three attempts at clearing Nessa's water-type gym… but timed out each time. You basically need to memorise the puzzle to have any chance at making the ten minute timer, and one playthrough even saw me deliver the finishing blow, before being robbed of the victory! So clearly, I have unfinished business to take care of on November 15. I'm also fully expecting Impidimp to want revenge on me, after repeatedly throwing Corviknight Steel Wings in their faces!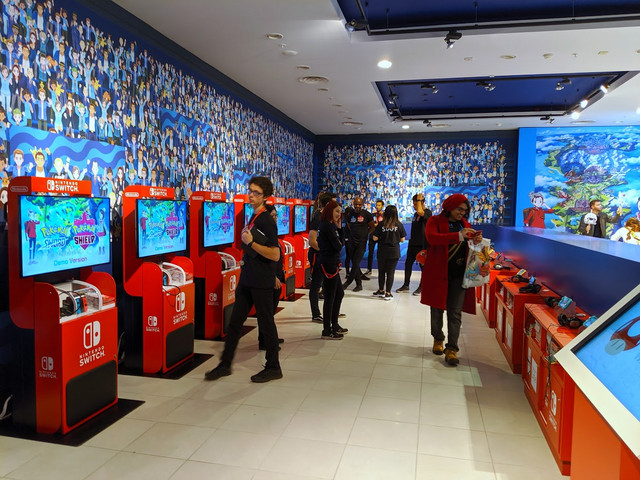 After finally going hands on with my most anticipated game of the year, I have to say it looks gorgeous on the compact handheld's screen. The 3D models looked crisp and the colors vibrant, but this sadly didn't translate to my experience on the docked demo stations, which exposed the models' jagged edges. It is worth noting that this is an older build though, and I can't deny that I loved the novelty of seeing a giant Dynamax Grookey blow up on the bigger screen! I also really appreciated the little details that really helped the game feel alive, like the crowd cheering whenever a Pokémon was knocked out.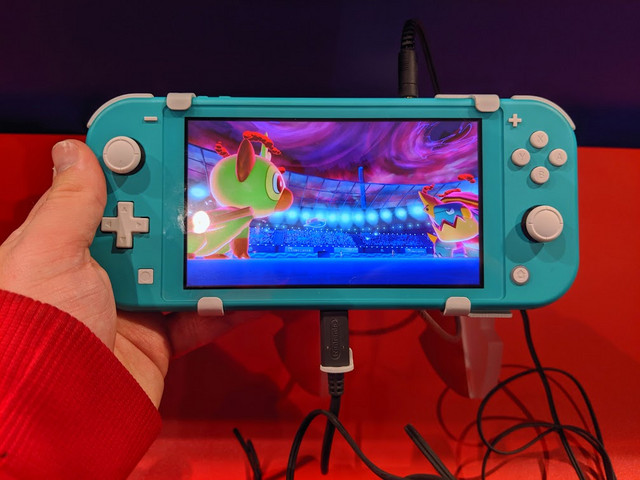 With me having exhausted attempts at finishing the demo though, my time at Pokémon Center London came to a close, and it was time for me to hoist my two bags of shopping home. Overall, I had a great time and it still feels unreal that I had an opportunity to visit a Pokémon Center, on my doorstep no less! This definitely did feel like a more limited, temporary experience though, and it has made me even more motivated to one day visit one of the Japanese stores!
While I wasn't able to note down the prices for every product, for an idea of how much to budget, the exclusive London Pikachu plush is £20 ($25.97), Galar starter plushies are £18 ($23.37), and the umbrellas are £29 ($37.39) each. If you're not careful, you could be like me and end up with a £300 ($389.55) bill at the checkout!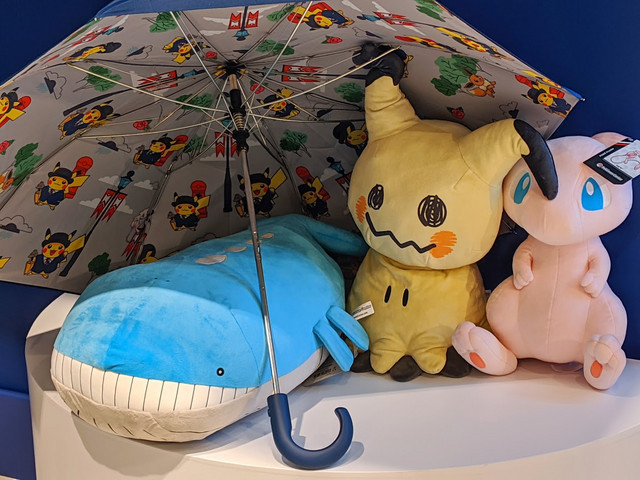 Pokémon Center London is open from October 18 to November 15 between 10am and 6pm (Monday to Sunday). I'd advise getting there as early as possible and expect lengthy queues, as demand has been unprecedented. On its first two days, the store had to close the lines as early as 11:45am, so keep an eye on Westfield London's Twitter for updates! More information can be found at Pokémon.com.

Have you ever been to a Pokémon Center? And what's the favorite piece of Pokémon merchandise you own? Let us know in the comments!
---
Josh A. Stevens is a freelance PR with UK anime industry experience, and a writer at Anime UK News. You can follow him @Joshawott.
Do you love writing? Do you love anime? If you have an idea for a features story, pitch it to Crunchyroll Features!