Take a first look at the most captivating and mysterious film that premiered at Animation Is Film Festival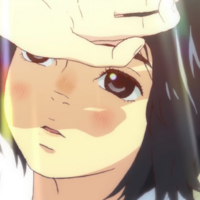 For many years, the gifted Ayumu Watanabe has had a pedigree of anime. From the bizarre and strange Mysterious Girlfriend X, to the melancholic After the Rain, to the endearing and comedic Space Brothers, Watanabe shows that he has a versatility for adapting a variety of stories. In 2019, however, he was faced with his most challenging task yet: adapting Daisuke Igarashi's Children of the Sea. While GKIDS has licensed the film and is planning to hopefully release it sometime this year, I was lucky enough to get a chance to see the first western premiere in LA for the Animation Is Film Festival (AIFF) back in October.
"I was approached by the producer [Eiko Tanaka] a couple of years after the manga ending, wondering if we could make the series into an anime. I was absolutely stunned," he said after the AIFF screening. "I never thought about making anything like this into a movie. But the opportunity was priceless and a huge challenge! But I think I was able to do it some justice."
Challenging is one word I would definitely use to describe Children of the Sea, a film so surreal it demands your full attention on the big screen. Based on a five-volume manga, the movie focuses on a girl named Ruka, who lives near the ocean with her parents. While her father is dedicated to his work at the aquarium, her mother drinks alone in the house, leaving Ruka to be a stubborn and stranded teenager. Frustrated with the stagnancy of her life, one day she ditches school and encounters two very strange boys from the sea: named Umi and Sora, the three soon form a strange friendship that involves a deep connection with creatures from the seas.
For an almost two hour movie, Children of the Sea immerses you so quickly the time flashes by. Ruka is an endearing protagonist, embracing the fiery attitude of a misunderstood teenager and the loneliness of one with an estranged family. She's very compelling and easy to understand, which is important, considering how much of Children of the Sea can feel strange: this isn't necessarily a bad thing, but the story makes it a point that Ruka is the audience's focal vision, and that she is our tie to the regular, the mundane, and yet the insatiable curiosity that dwells within each one of us.
In contrast, Umi and Sora feel more like abstract concepts bubbling with a distinct personality. Umi's happy laughter and bravery remind me of youthful freedom; Sora's quiet and reserved attitude resembles the cynical and pensive attitude of a lost child. Together, however, all three form a fantastic bond that grips you for a good portion of the story: their playful nature contrasts wildly with the moody and often confused adults that sit in the back of the tale, woefully attempting to parse parts of the plot out for you. It's these parts that feel the most out of sync with the movie, as I would have personally preferred a purely poetic and "show not tell" approach.
However, when Children of the Sea does hit its marks, they're incredibly visceral. While much of this is due to the seamless harmony of CG and traditional animation, it's also aided by none other than the prestigious Joe Hisashi and his soundtrack. Children of the Sea is equal parts visual beauty and pitch-perfect sound direction. Orchestral strings swell with the momentum of the waves, and yet, there's also a great layer of minimalist piano and flute arrangements for the quiet and intimate moments of the movie. It's clear Hisashi had a very strong vision of accompanying the flow and ebb of his music with the emotional journey of the movie. I particularly enjoyed how dissonant the music could be at times, which added to the surreal nature of many scenes.
While a good two-thirds of the film focuses on Umi, Sora, and Ruka's journey, the last third swiftly transforms into one of the trippiest and most surreal audiovisual adventures I have ever witnessed on the big screen. What first starts as a coming of age story becomes a grander and far more abstract telling of how the cycle of nature intertwines with the universe and our lives themselves. It's a very philosophical and metatextual statement that can be easily overwhelming, but I do think the anime at least gives you some headway beforehand so you know what you're getting yourself into.
Here, in these last forty minutes, Igarashi fully unleashes the power of animation: the art direction sparkles as universes collide with drops in the ocean, and colors become a wide spectrum of blues, purples, reds and greens. Negative space swallows the depths of the water, and human bodies twirl and dance, becoming amorphous and intangible shapes of mass.
Every stroke of linework boldens and adds depth to the characters and sea creatures; textured and excellent composite intensifies the focus of light and shadow to truly draw you into a landscape of almost psychedelic imagery. I could personally go on and on about how intense and mesmerizing these last forty minutes are, but no words can truly capture them.
You can catch a glimpse of this magic through the official music video, but even then, Children of the Sea is meant to be felt and seen, rather than parsed and dissected. It's a film that beseeches us to realize that there is one grand life force that unifies us all and takes a very zen approach to that kind of thinking.
While it's not necessarily easy to digest, especially if "harmony with nature" is not a mindset you're too familiar with, Watanabe's audacity to create an artistic vision of euphoria cannot be denied. It's perhaps the most beautiful thing I'll see in a long time, and I can't wait to see it again. Here's hoping GKIDS announces official screenings later this year.
Are you excited for Children of the Sea? Have any other Daisuke Igarashi works you'd like to potentially see adapted in the future? Leave a comment below!

____________________________________________________________________________
When not finding ways to doom all her ships, Natasha can often be found on her twitter as

@illegenes

, or writing more about anime on the blog

Isn't It Electrifying!

Feel free to swing by and say hi.
Do you love writing? Do you love anime? If you have an idea for a features story,

pitch it

to Crunchyroll Features!