The fifth campaign since 1997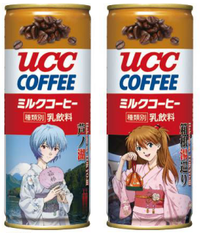 UCC Ueshima Coffee, a coffee and tea company based in Kobe, Hyogo Prefecture, has announced that they will release the new version of their popular Evangelion UCC coffee in the limited areas of Japan on September 5. They had sold the Evangelion coffee in 1997, 2007, and 2009, when the Evangelion movies were released in the Japanese theaters. Also in 2009, they produced "Evangelion Hakone Can", which was tied up with Hakone-city in Kanagawa. New Tokyo-3 in the series is located on the shores of Lake Ashinoko in the current Hakone. This is the second campaign featuring Hakone by UCC.
As same as the first campaign, the cans are decorated with 6 different Evangelion characters (and one Eva) with popular landscapes in Hakone. The biggest difference in the new illustrations is that Rei and Asuka are wearing yukata, Japanese casual summer kimono.
2009 version of Evangelion Hakone Can
Source: Press Release
© khara