Code Geass' Suzaku Kururugi Voice as Griffith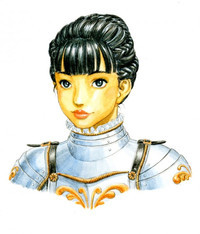 Young Animal, the magazine that runs Kentaro Miura's medieval horror action manga Berserk has listed the staff and cast for the first in a trilogy of movies adapting manga's "Golden Age" story arc.
As was previously know, veteran animator, and character design for Giant Robo, the Lunar RPGs and a certain Miura passion called [email protected], Toshiyuki Kubooka will direct the Studio 4°C production.
Via Anime News Network and Manga News
Cast:
Guts: Hiroaki Iwanaga (Tomica Hero Rescue Force, Moyashimon, Kamen Rider OOO)
Griffith: Takahiro Sakurai ( Code Geass' Suzaku Kururugi)
Casca: Toa Yukinari ( Naruto Shippūden)

Staff:
Screenplay: Ichiro Okouchi (Code Geass: Lelouch of the Rebellion)
Character Design/Chief Animation Director: Naoyuki Onda (Gantz)
Animation Director: Satoshi Iwataki (Toaru Majutsu no Index)
Art Director: Yusuke Takeda (Ghost in the Shell: Stand Alone Complex), Goki Nakamura (Cat Soup)
Art Setting: Mitsuhiro Arita (Final Fantasy XI)
World Setting Supervisor: Kenichi Iwao (Final Fantasy XI/XIV)
Western Swordsmanship Coach: Jay Noyes (Final Fantasy XII)

Berserk Ōgon Jidai-Hen I: Haō no Tamago will open in Japan in January.
Berserk movie spokes character Clara de Porras has recently twittered some goodies from the production, including