Akanishi was to star in Fuji TV's remake, which starts in July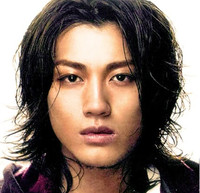 Poor Jin Akanishi, he just can't catch a break! His first punishment for marriage-announcement-slash-baby drama was the cancellation of his concert tour, and now Johnny's Wrath strikes again. Akanishi was to star in Fuji TV's new GTO drama, but his role in the production has been dropped as further punishment.
Johnny's Jimusho made the request to Kansai TV production in early March, and, as Kansai TV stated, Akanishi is now officially no longer a listed candidate. Other cast members are auditioning for the GTO remake, which is scheduled to start airing in July.
If you missed it back in February, here's the initial announcement of Jin Akanishi's marriage to actress/singer Meisa Kuroki that caused this mess in the first place. What do you think? Has Akanishi's talent agency gone too far this time, or is this a proper additional punishment?
Via Tokyohive