Leek twirler meets leek alien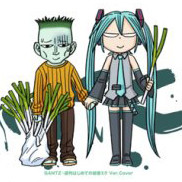 Kentaro Hayashi, artist on Shuukan Hajimete no Hatsune Miku four-panel manga and the recent "Astro Troopers" music video, along with Nejimaki Kagyu manga creator Atsushi Nakayama, have each created an amusingly warped variant cover for Hiroya Oku's brutal sci-fi manga Gantz.
Hayashi's "3.9 Edition" of the second Gantz omnibus was released last week, while Nakayama's is scheduled for May 8th. The two thousand-page collections sell for ¥880 ($11) each.