Plus, "HARAJUKU KAWAii !! TV" set to launch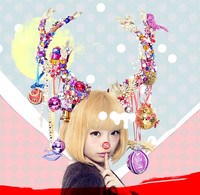 In a short-but-sweet station ID for Japan's Space Shower TV channel, Kyary Pamyu Pamyu celebrates Xmas like only she can: with a very crazy reindeer games-ready hairdo and cute English pronunciation. Kyary -- who has just been asked to sing on NHK's prestigious Red and White New Years Eve show -- regularly hosts programming on the Space Shower TV channel, and the station will also be home to Private Xmas Party with Kyary Pamyu Pamyu, a special set to air on 12/24. Will it top the Pee Wee Herman Christmas Special for sheer insanity?
Meanwhile, Kyary's increasingly aggressive agency ASOBISYSTEM is planning to launch HARAJUKU KAWAii !! TV, a web series that looks to be the internet equivalent of the live star-studded HARAJUKU KAWAii !! FES events regularly thrown across Japan. Can it compete with existing similar shows like Kawaii girl Japan and Kawaii.i? Well, music by Yasutaka Nakata (Perfume, capsule, and Kyary's songs) as well as participation from the PONPONPON one herself should help. But vote with your view when HARAJUKU KAWAii !! TV goes live on 12/24.
-------
Patrick Macias is editor in chief of Crunchyroll News. He also runs the Japanese Fashion Inferno tumblr blog. Follow him on twitter at @Patrick_Macias.