Starts Jan/12 at 6:00pm Pacific Time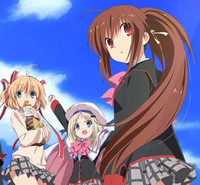 Check it out. Yet another new streaming anime series is coming soon to Crunchyroll and perhaps you've heard of it before… Little Busters!
This fan favorite series, based on the visual novel series by Key, is set to broadcast every Saturday starting on January 12, at 6:00pm Pacific Time for its premium members, and January 19 for free members, starting with episode 14. The previous 13 episodes will also be available on Crunchyroll at a later date.
The series page will be up soon at www.crunchyroll.com/littlebusters
Background and story:
"Based on a visual novel by Key, the studio behind other smash titles like Clannad, Air, and Kanon, Little Busters! features main character Riki Naoe, who was orphaned when his parents die. However, his depression is kept at bay with his group of childhood friends, who call themselves "Little Busters." The friendships and interactions of this group of friends is the main focus of Little Busters! as they go about their daily high school lives.
The cast features Yui Horie as Riki Naoe, best known for her roles in Fruits Basket as Toru Honda and Love Hina as Naru Narusegawa, with Hikaru Midorikawa of Gundam Wing's Heero Yuy fame, as the leader of gang, Kyousuke Natsume and Tomoe Tamiyasu, who also voiced Futami Moriyama in Recorder and Randsell, as his sister, Rin Natsume."
Little Busters! will be available to Crunchyroll's audience in the following territories: USA, Canada, UK, Ireland, South Africa, Australia, New Zealand, Netherlands & Scandinavia.
--------

Patrick Macias is editor in chief of Crunchyroll News. He also runs the Japanese Fashion Inferno tumblr blog. Follow him on twitter at @Patrick_Macias.