Airs Sat/4 at 8:30 a.m. Pacific time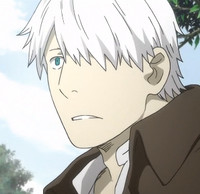 Winter 2014 is shaping up to be another memorable season of anime at Crunchyroll as the new MUSHI-SHI special episode, which marks the return of the anime based on the award winning manga by Yuki Urushibara after a long break, is set to join the lineup next week. This special showing of MUSHI-SHI is set to broadcast on Saturday, January 4 at 8:30 a.m. Pacific time for its premium members. Free users will be able to watch it one (1) week after broadcast on Crunchyroll. More information can be found on www.crunchyroll.com/mushishi.
Story and background
"They are creatures only known as 'Mushi,' whose abilities range well into the supernatural. While their existence and appearances are unknown to the humans around them, there are a few like Ginko who is a 'Mushi-shi' that travels around to investigate and find out more about the 'Mushi.' During the course of his discovery and understanding, he helps those who are troubled by the Mushi themselves…"
Fans from the original series can expect to hear the familiar voices of Ginko, the Narrator, and Adashino-sensei respectively portrayed by Yuto Nakano (Casshern Sins, Detroit Metal City), Mika Doi (One Piece, Air Master, Rurouni Kenshin), and Yuji Ueda (Honey and Clover, Chobits, Love Hina).
MUSHI-SHI special episode will be available to Crunchyroll audiences in the following territories: US, Canada, United Kingdom, Ireland, Australia, New Zealand, South America, Europe, Middle East, and Africa.
---------
Patrick Macias is editor in chief of Crunchyroll News. He is also the editor of Otaku USA magazine. Check out his blog at http://patrickmacias.blogs.com