1/7 scale figure still in prototype phase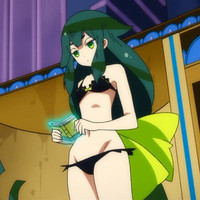 If you're a fan of tiny, green-haired girls in bikinis (or Gatchaman Crowds), good news! Utsutsu is getting her own bikini-clad figurine. We don't know a whole lot about her yet, just that she's 1/7 scale and was sculpted by Yokoshima Shinpei for Amakuni. No price, no release date.
There is, however, a picture:
So what do you think? Sexy? Distractingly weird hip bones? Sound off in the comments!